The Best Baby Tongue Cleaners, Because That's Something You *Will* Need
by Jenn Sinrich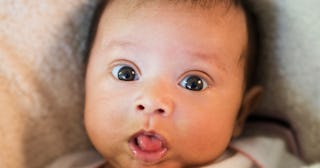 Getty Images/Jose Luis Pelaez Inc
Yup, you'll need to get baby tongue cleaners when you have a baby, so you might as well add that to your baby registry list. On the laundry list of kinda weird, kinda gross things you have to do as a new parent (ahem, like changing tons of diapers), you might want to tack on tongue scraping. Yeah—turns out oral care isn't just for babies spooning up purees or chomping on chicken nuggets. In fact, the sooner you start taking care of your baby's mouth health-wise, the better.
The best way to get rid of bacteria lurking in your baby's mouth is with a newborn tongue cleaner. Ever catch a glimpse of your baby's tongue and notice white residue built up? That's leftover from the milk, be it breastmilk or formula, but when it's left to sit for long periods of time, like when your newborn takes more than a 30 minute nap, bacteria can build up.
Cleaning your newborn's tongue doesn't have to be a difficult process. In fact, it's easier than ever thanks to the tongue cleaning devices on the market that are specifically created for newborns. Here are some of the top-sellers that parents are loving right now.
Best Baby Tongue Cleaners:
Now that you've got your little one's oral care squared away, check out more baby gear you'll surely need in her first year.
This article was originally published on