The Best Kids Basketball Shoes, According To Pros — And Why It Matters, Anyway
by Alesandra Dubin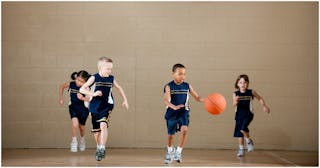 Getty Images / FatCamera
Basketball shoes, hiking shoes, and football cleats are meant to serve a specific purpose … but when it comes to dribbling down the court, do you really need to run out and buy a new pair of basketball shoes? ("Why won't your regular sneakers work?" you might be thinking in an internal monologue intoned like the Fresh Prince in "Parents Just Don't Understand.") If you're asking a pro, a great pair of kids basketball shoes really does matter. "Quality basketball sneakers provide support specifically for lateral movement," says Joshua Margolis, CEO and fitness consultant with Mind Over Matter Health & Fitness. "Impact is a factor as well — with the constant jumping, you really need a supportive sneaker that cushions the blow on both your knees and your back."
Related: Toy Bow And Arrow Sets For Your Kid To Channel Their Inner Katniss
What should you look for in kids basketball shoes?
But it's not a one-size-fits-all approach to shoes, explains Dr. Rami Hashish, a principal at the National Biomechanics Institute. "It's important to realize that some shoes may work great for some kids and terrible for others. So when looking for a shoe for your child, to help protect against injury, it's important to consider their specific needs," he says. "If your child is prone to ankle sprains, it may be wise to have a higher-top shoe, whereas if your child has pain in their Achilles, it may be better to have a shoe with a softer sole to better cushion their heel."
Overall, he says, as shoes wear down, "their ability to protect against high forces to the foot and leg reduces, increasing the potential for injury." That's why Margolis emphasizes the importance of regular replacement. "The rule of thumb is that a sneaker will wear out within six months if using it on a consistent basis," he says.
So yes — with apologies to your credit card — getting a quality pair of kids basketball shoes matter. But which ones to get? Overall, the pros say to look for breathability, flexibility, comfort, and support. "You're going to want to find a basketball shoe that is comfortable for your child, not just whatever their favorite player is wearing," says Top Fitness Magazine owner Jeff Parke. "Look for a shoe that is going to protect their feet while they're playing and still be comfortable."
Related: Basketball Coloring Pages That'll Score Big With Your Little Baller
For specifics, consult our roundup of expert picks for the best kids basketball shoes for function and style.
Best Kids Basketball Shoes
Best Big Kids' Basketball Shoes
Best Girls' Kids Basketball Shoes
Best Little Kids' Basketball Shoes
This article was originally published on