These 50+ Baby And Parenting Products Help Make Life Easier For Moms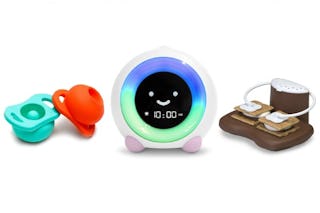 Thanks to adults who think outside of the box there are endless baby products, kid essentials, and gadgets for moms and dads on the market designed to solve so many parenting problems. We've sussed out the latest inventions, mommy must-haves, Shark Tank favorites, and more to compile this ultimate list of innovations that are worth the investment. Check out our top picks!
RELATED: The Best Child Carrier Backpacks, Whether You're Trekking On Trails Or Running Around Town
CLEANS BOTTLES BY DROPPING A TABLET IN WATER
Invented by a mom, these FizzWizz tablets and wipes make cleaning bottles, sippy cups, pacifiers, and more a breeze for parents. The best part? They're plant-based! For the tablets, all you have to do is drop one into a baby bottle with some water, shake, and rinse! Ditch the heavier chemicals from liquid soap and the extra energy it takes to wash the bottles with a brush.
RELATED: 14 Best Water Bottles For Kids That Won't Leak All Over The Place
TURNS BABY'S SPILLS INTO ART
Genius baby product alert! Is mealtime always a mess fest? Embrace the mess or be miserable! This bib offers up a blank canvas so your little boo can paint it with pea juice and carrot puree. If all of the stains don't come out, it's actually okay. Turn every meal into a masterpiece with this art-inspired 100% cotton bib.
This ingenious bedding works just like a sleeping bag, featuring a fitted sheet and comforter that are zipped together. This makes changing out bedding a super easy process, and kids love it since they can stay snuggled in all night long. Zipit bedding makes it fun and possible for kids to make their own bed in the morning. (You read that right.) The convenient bedding even glows in the dark.
PROTECTS HANDS AND WRISTS FROM SH*T
Oh Shittens, where have you been all our lives? Sometimes, our bare hands really do just feel too exposed when we have to roll our sleeves and wipe down a tiny hiney. Brilliantly-named Shittens will actually keep your hands and wrists clean. This baby product is great for cleaning tough surfaces and baby gear, too.
SOOTHES BABY TO SLEEP
When you're too tired to soothe your baby, the rockaRoo will do it for you. This innovative baby swing features a relaxing front-to-back gliding motion with five speed options that will rock your baby better than you after a long day. Just embrace it. You can also connect the rockaRoo to your favorite music and stream the tunes until your baby dreams. The seat insert is made of breathable mesh fabric so your little one will remain cool and comfy.
KEEPS PACI NIPPLE CLEAN
These pacifiers feature a unique design so you can worry less about all of the surfaces (aka germs) the nipple of your kid's paci is exposed to. (Unless it's your second kid and you don't care!) The nipple simply pops inside when it drops and hits the floor! The pacifier is self-protecting, so it will save you time cleaning it on a daily basis.
CREATES HEALTHY ICE POPS
These monster popsicle molds include freaky feet that stand on their own. This way, when your little monster puts his popsicle down, it won't get all over everything. The freezer tray is super narrow too, so it's easy to store or stack. Make healthy frozen yogurt or fruit puree pops that your kid will get excited about eating. Imagine that!
MAKES SLEEPOVERS EASIER
This super smart Shark Tank product is perfect for kids who are obsessed with sleepovers, especially when there's always that one kid who never comes prepared. If there isn't any extra room in your kid's bed and you can't find a sleeping bag, this bean bag will transform into a cozy mattress within seconds. Problem solved, problem kid!
DISTRACTS KIDS AT THE DOCTOR'S OFFICE
Kids tend to freak the f*ck out when they realize they're about to get a shot at the doctor's office. That's where Buzzy comes in. This bumble bee was designed to minimize the sting, and who wouldn't want to make things easier on a kid who needs injections, bloodwork, or routine shots? It works by providing cooling relief, a friendly face, and numbing vibrations. P.S. Order a backup.
DOUBLES AS A CANVAS FOR PICKY EATERS
These friendly-face plates make it fun for even the most picky eaters to chow down. Yes, playing with food is mandatory if these plates are in use. Give this gal a broccoli bouffant and chow down! Just make sure your kiddo doesn't try putting broccoli in her own hair after dinner.
EASY TO TAKE ON THE GO
This invention includes a baby carrier that transforms into a diaper bag and it's the perfect way to bring essentials along and save space while on the go. The best part? The 2-in-1 product is priced at around what a single diaper bag or single baby carrier would cost. The nylon carrier weighs less than one pound, but can hold babies and toddlers up to 60 pounds.
KEEPS SOAP OUT OF EYES
The actual worst thing is when a bath or shower meltdown happens after a smidge of soap sneaks into your kid's eyes! Prevent the issue with this cool visor-like guard.
HOLDS A BABY BOTTLE
The Beebo makes it possible to feed a baby hands-free, so you can check Facebook while your little on fills up. The silicone Shark Tank invention keeps a tight grip on a baby bottle so you don't have to. This product is also super helpful for the people in your life (like little kids or grandparents) whose arms might turn to jello after keeping a baby bottle propped up for too long.
GIVES YOUR TINY TOT A BOOST
If your kiddo has high hopes for the kitchen but falls a little short when it comes to reaching the countertop, this cute invention solves that issue. It offers a safe space for your little one to stand or hang out while you make dinner. The wooden stool can be folded and stored in a pinch.
STREAMS ACTIVITY TO YOUR SMART PHONE
If you can swing it, Ring it. This easy-to-install doorbell includes video streaming services that you can tap into from your phone. If you're getting something dropped off on your front porch while away from home, you can connect and communicate with the person who is on your front porch. Ring doorbells make it possible to do cool things like scare intruders away or check in on if the babysitter's boyfriend comes around.
CALMS BABIES DOWN SO YOU DON'T HAVE TO
This insanely popular, affordable product is a genius baby invention we can't ignore. It literally just shushes your baby until sleep ensues. Persistence in soothing is key for getting a little one to start snoozing and this gadget works on a 15- or 30-minute timer. Score!
KEEPS KIDS FROM FLOATING AWAY
This float is ideal for mamas with multiple kids who aren't quite ready to float on their own. Keep the children in one spot easily! You can also take home a version that includes a space for mom and one space for a single child. The split opening for the adult on either option fits most body shapes, too. This float solves a problem but creates another one: You will be splashed in the face, a lot.
RELATED: Get A Pool Alarm To Help Keep Your Family (And Pets!) Extra Safe
SAVES MONEY AND THE ENVIRONMENT
Does your kid ask for a new juice and not finish it? You won't be pissed about it anymore. Eliminate waste and invent up healthy juice alternatives by using a Drink in the Box. It's the same size as a regular juice box! Experiment with infused waters, homemade juices, or simply use it to save money on your favorite store-bought drinks by pouring smaller servings from a bigger container.
CREATES A BARRIER SO YOU CAN FILL THE TUB FASTER
When your cutie pie gets to be too big for the sink, it's time for a BabyDam. This innovative product not only makes things easier and faster for parents and little ones when it's time for a bath, but it will save water, too. You can hang out at eye-level with your kiddo from the inside of the tub while staying dry. Then, when your baby is sound asleep, you can use the BabyDam to unwind with a nice foot bath.
SLEEP TRAINS TODDLERS AND KIDS
This adorable alarm clock helps sleep train little ones by setting the mood during the different parts of the day. It uses mellow colors and comforting smiles to tell a kiddo when it's time to get up. Half an hour before it's time to wake up, Mella will glow yellow. When the clock starts to glow green, it's time to get up and start the day! FYI, it doesn't have the same effect on overtired moms.
KEEPS EVERYTHING ON THE HIGH CHAIR TRAY IN PLACE
This sleek high chair by 4moms has a genius feature that most other high chairs don't. It's magnetized, which makes everything much easier. To make set up simple, magnets will guide the tray into place, for example. Plus, this magnetic starter feeding set will keep food secure on the tray! The high chair was designed without fabric or nooks and crannies which makes cleaning up after mealtime a painless process.
TRACKS YOUR KID'S SCREEN TIME IN A FUN WAY
If you have a kid who refuses to pull away from the screen, these fun tokens will change that. Dish out the colorful tokens that feature minute-limits in large print. Your kiddo can earn more time or have time taken away. Brilliant.
KEEPS SNACKS NEATLY DIVIDED
This colorful, stacked container by ZoLi is the best way to store and separate your little one's snacks whether you're at home or on the go.
PROVIDES ULTIMATE PARENTAL CONTROLS
This gadget is the best way to setup legitimate parental controls on all wireless or wired devices in your home. You can even set time limits on social media apps or pause the internet (for on person or the entire family) with a single tap.
OFFERS AN EASY WAY TO TAKE YOUR FUSSY KID'S TEMPERATURE
Never annoy your kid with a thermometer again. These stickers make it easy to snag an accurate temperature reading on a little one who typically gets fussy. Simply stick one on your kid and within seconds the temperature indicators will activate to reveal an accurate reading. These things are magic when dealing with sick kids.
MAKES IT IMPOSSIBLE TO DROP THE TEETHER
If your tot is always dropping the teether on the ground, this product will solve that problem. Jomolly teething mittens will keep your little one from chomping on their own fingers, too.
EASILY TIMES READING SESSIONS
If your kiddo has trouble keeping track of how much time is spent reading each day, this digital bookmark will help. You can set a timer so those 20-minute reading sessions will fly by uninterrupted.
SEPARATES BABY FOOD INTO INDIVIDUAL CONTAINERS TO GRAB AND GO
These food storage containers are perfect for freezing up those perfect purees! Store them on the tray or stack them up. The best part? You can grab an individual container and go to town without having to transfer the food to a different dish.
INSPIRES BOYS AND GIRLS TO THROW LAUNDRY IN THE HAMPER
Have a messy kid at home? That was a stupid question. This all-star basketball hoop doubles as a hamper. You're welcome.
OFFERS A CONTAINED SPACE FOR WASHING LITTLE PIECES
If you're a parent, you know there are so many little things that need to be washed. A basket for the dishwasher will turn that process into a one-step ordeal.
BREAKS RESPONSIBILITIES DOWN INTO FUN TASKS
Responsibilities and chores can feel so dry, sometimes. Spice things up at home so that kids feel more energized and excited about taking care of the various things on their to-do list. You can choose the types of chores you'd want your kid to focus on (like, "take dirty laundry to laundry room") and then have your little one pick a stick out of the pile. This unorganized method of organizing will likely yield more positive results.
SIMPLIFIES MIXING UP A BABY BOTTLE
This is the Nespresso of baby formula and now it's available in rose gold. Use any powder baby formula to fill the formula section at the top and then just add water to the tank. The Baby Brezza will produce yummy bottles at just the right temperature!
TAKES THE EDGE OFF WHEN MEDICINE IS SERVED
There's nothing worse than having to give your sick baby some icky medicine when you know your little one can't stand the taste. This cute elephant (of course it's a Shark Tank product!) takes some of the edge off.
VIBRATES SO YOUR BABY SLEEPS MORE
This convenient mat is perfect for traveling or to use right at home. It soothes a restless baby by vibrating gently and it helps your baby fall asleep faster and say asleep longer. It mimics the sounds and motions of the womb to activate your baby's natural calming response.
MAKES FEEDING AN EASIER PROCESS FROM PLATING TO CLEANING
This silicone mat makes it easy to serve food and clean it all up after. With a built-in placemat, this plate offers up three sections that will please picky eaters. Plus, you don't have to worry about bowls or cups rolling off of the high chair or table. The silicone mat is styled like a face, so that makes things even more entertaining.
ENCOURAGES LITTLE KIDS TO USE THE TOILET
This adorable potty looks just like the real thing and your tot will feel like a big kid using it. Use the flush feature as a reward for after your little one goes! It's Amazon's number one best seller in the potty training section.
INSPIRES TENSE KIDS TO TAKE A BREATH
These quirky yoga army men are actually quite cool for kids and parents alike. The figurines are a perfect excuse for little guys and gals to get their mind in a more relaxed state and practice some deep breathing.
SECURES SWEETS SO YOU DON'T HAVE TO SUPERVISE
Stop playing bad cop at the cookie jar! Just get one of these snack safes so that your kids don't have full access to the sweet treats all the time. You can adjust settings so that the safe will unlock at the same time every day, like, after dinner!
INCLUDES WEIRD MUST-HAVES ALL NEW MOMS LOVE
This big bundle of FridaBaby products includes innovative postpartum and baby products like the Snot Sucker, Fridet, Windi the Gasspasser, NailFrida, FeverFrida thermometer, and more.
MAKES ROAD TRIPS WAY MORE ENTERTAINING
This simple product makes it possible to provide endless entertainment on your next road trip or family vacation. The set includes 50 entertaining games kids can play just about anywhere!
SECRETLY STORES IMPORTANT BELONGINGS IN THE CENTER
This Monkey Mat is a must-have parenting product. Based off of the concept of monkey in the middle, this Shark Tank mat features a discreet pocket right in the middle to store valuable belongings while your family enjoys a picnic or lounges around at the local fireworks.
CLEANS THE FLOORS WITH THE PRESS OF A BUTTON
There's a new member of the family and her name is Roomba. This robot vacuum is sensitive enough to avoid slamming into walls, and robust enough to loosen, lift, and suck up particles and dirt. The coolest part? You can turn it on from your phone and watch the floors get clean without lifting a finger.
ORGANIZES TOYS AND SOAPS INTO VISIBLE POCKETS
If you've got too many bath toys to count, you need a bath toy organizer! This mesh option offers plenty of airflow and visibility. The pockets make it possible to neatly store not just toys, but shampoos and soaps, too.
PREVENTS SNACKS FROM SPILLING
This snack container features a spill-proof lid, so when it goes flying out of a stroller not one single Cheerio will be lost. It's a best seller in Amazon's baby food storage containers section, and it's perfect for either at-home or on-the-go use. The only problem? You won't be able to follow a trail of crumbs to find your kid anymore.
CATCHES CRUMBS AND TRANSFORMS IN STYLE
These bright bibs are easy to clean and quick to catch snacks. The 3-in-1 design means this bib can grow with your baby. The pocket can be adjusted so it can be used as a drool bib for new babies, a snacking bib for toddlers, or for protection during craft sessions for older kids!
MAKES S'MORES WITHOUT A CAMPFIRE
This insanely cool gadget will turn your microwave into a campfire without the actual fire! Make oooey-gooey s'mores right at home using this device to melt down the 'mallows and chocolate in a pinch. Just add water to make two in under 30 seconds.
KEEPS FOOD FRESH WHILE PROTECTING THE ENVIRONMENT
These reusable BPA-free silicone food bags are perfect for packing lunches and on-the-go snacking. These bags are microwave- and dishwasher-safe, so you might want some for yourself, too.
ENTERTAINS KIDS WHILE TEACHING THEM
This simple bath toy functions as a learning tool for tots who are still getting a grip. The on-and-off function featured at the top of the toy works by simply placing a finger over the small opening. When the toy is "on," the rain will fall from the toy and when it's "off," the rain will stop.
MAKES CHANGING OUT CRIB SHEETS SO EASY
This genius QuickZip sheet set makes changing crib sheets a breeze. Instead of having to lift the mattress to swap sheets, you can simply zip around the edges and pull off the top piece instead. QuickZip sheets are available in 17 different colors to suit the style of your nursery.
TURNS HEALTHY FRUIT INTO A TEETHER
These fruit feeders will help a teething tot transition to solids in a safe, soothing way. Just add some fresh fruit (strawberries work great!) and watch your munchkin munch on the fruit feeder while receiving some relief and vitamin c.
OFFERS A SLEEK SPOT FOR LITTLE ONES TO EAT AT THE TABLE
Throwing a dinner party but don't want to ruin the vibe with bright-colored, cartoon-spotted dishes for your kids? This set of dinnerware makes it possible to include kids in mealtime without disrupting the overall style of the sit-down meal. This gender-neutral set will even blend during a family brunch, too!
More: Parents Swear By These Cheap Chore Sticks That Put Unmotivated Kids To Work
All products featured in our shopping guides are spotted by Scary Mommy editors. We may earn a commission on purchases made through links from our site.
This article was originally published on