Disposable & Reusable Swim Diapers To Keep Your Water Baby Splashin' All Day Long
by Karen Tietjen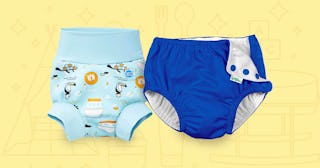 The best baby swim diapers — whether disposable or reusable — keep messes in so Baby can chill out! Whether you've just set up the inflatable kiddie pool or you're taking your canopied floaties to the beach, or you're headed to an all-inclusive resort, baby swims nappy is a baby gear essential if your little one isn't potty trained. For the record, swim diapers are different from regular ones because they won't absorb water, swell, and inevitably, fall off (more on that below). Not only is this a comfort issue for Baby, it's a sanitary issue for everyone else, too.
To save you time, we've rounded up the best swim diapers available and addressed some frequently asked questions about how swim diapers really work. From popular reusable brands like Happy Nappy and Splash About, to disposable options from Huggies and Pampers, to bathing suits with a built-in swim diaper (!) these adorable options will help ensure good, clean fun for everyone. So grab the kid and reef-safe sunscreen and head on down to the water!
Be sure to check out our mom-approved nighttime diaper and cloth diaper picks, too!
Do swim diapers really work?
Yes, they do the job – but they do the job differently. Regular diapers will swell and fall off if they're submerged, and swim diapers let the liquid pass through. Their sole purpose is to keep solids contained as opposed to providing absorption, so — you guessed it — pee usually passes right through (although, some reusable diapers are able to hold it all in). Therefore, it's best to put swim diapers on just before hitting the water. We should also point out that before heading to a public pool, be sure to check if there are specific rules regarding non-potty-trained splashers. You may be required to put two layers on your kiddo, such as a disposable
That said, there is an exception: Swim diapers don't come in newborn sizes because their stools aren't solid enough to be contained in a swim diaper.
Do swim diapers go over regular diapers?
Nope, they can be worn all their own! But again, they're literally just for swimming, so unless you want to clean up a wet car seat or beach blanket, use regular diapers whenever you're on dry land.
What kind of diapers do you use for swimming?
Glad you asked! You can use disposable diapers which are tossed after each use, or reusable diapers, with which you can flush any solids and wash (similar to a regular cloth diaper).
But for a more specific answer to this question, scroll on! Below, find our favorite swim diaper picks, including disposable diapers, reusable diapers, and bathing suits that function as a swimwear all-in-one!
Best Baby Swim Diapers
Best Reusable Baby Swim Diapers
Best Baby Swim Nappy & Bathing Suit
This article was originally published on