Lock The Bathroom Door And Throw In One Of Our Favorite Bath Bombs—Got The Wine?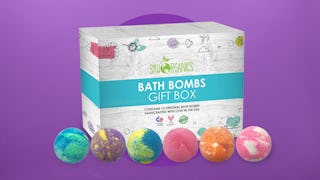 Self-care is essential! We all know that. But let's be real: Right now, options for me time are pretty much non-existent. With your family all home together, there aren't exactly a lot of places you can escape to when you need a much-deserved break from working, teaching, and everything else you're now required to do in a single day. Mamas, that's why it's probably time to turn your bathtub into more than a place just to get clean— turn your bathroom into a spa moment.
So go on and clear out the kiddie toys and squishy bath mat. Put the kids to bed and run a luxurious bath for yourself. If you want to up the experience even more, drop in a calming bath bomb. Bath bombs are the new bubble bath; they contain essential oils, natural scents, and even pretty colors that will transform the moment.
Below are eight of the best bath bombs and bath bomb sets for your bath time pleasure. You made it through another long day. Let's drink to that!
Ready to indulge in some more self-care? We've got more buys for mom recommended wellness and pampering.