8 Best Baby Bibs For Getting Less Food On The Floor And More In The Pocket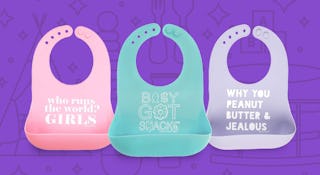 No matter where you are in your parenting journey, you've probably come to the realization that bibs are a must (along with other feeding essentials like high chairs and baby spoons). Whether you're in the spit-up-slathered newborn phase, drool-drenched baby phase or food-throwing (and -refusing) toddler phase, bibs are just one of those kid-raising essentials that make life a whole lot easier.
Their function is simple: they catch all the crap your kid spits out of their mouth. But not just any bib can live up to the task. Like most baby gear, you get what you pay for when it comes to bibs. "There's nothing wrong with stocking up on inexpensive bibs, but higher quality bibs won't fail you when the baby needs to stay clean, so they are worth the investment," says Melanie Potock, Pediatric Speech Language Pathologist, Feeding Specialist and author of Raising a Healthy, Happy Eater.
According to Potock, a quality bib needs three components for both the parent and the baby: a comfortable, but effective neck closure, an easy method of putting it on and taking it off (but not easy enough for your little to do it) and some thigh coverage (even if it's just a scoop bib that collects all the food before it hits the lap). "The neck closure should, of course be adjustable, and it shouldn't rub or irritate your child's skin," she says. For infants who may need a bib just on their chest during breast or bottle feeding, she suggests looking for a comfortable, soft adjustable neck and super-soft, easy care fabrics.
In addition to being practical, many bibs these days even try to throw in a little parent humor, with quippy and even lol-worthy phrases that at the very least bring some cathartic release to the table when your kid's feeding his homemade chicken nuggets to the dog. Or worse.
Ready to shop for bibs? Here are the best of the best bibs moms are loving right now.
Now that you've got your bib situation squared away, don't forget the rest of the baby must haves. Check out all of our mom approved best baby gear.
This article was originally published on