29 Winter Candles That'll Make It Feel Like Christmas All Winter Long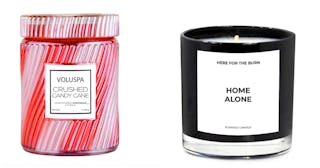 There's something about lighting a Christmas candle that gets the endorphins flowing and makes everything better. Scent is the strongest sense tied to memory, and so when we light a holiday-scented candle it immediately brings back nostalgic moments from childhood like snow days, baking gingerbread cookies, or drinking hot chocolate in flannel pajamas.
Look, candle lovers get an unfair reputation for being "basic." But name a better feeling in the world than taking off your bra after a long day, slipping into your coziest sweatpants and lighting a brand new three-wick candle. We'll wait. See? You can't name one because there is no better feeling. It's simply the best, and there's nothing basic about it.
Candles plus Christmas is such a winning combo, because people go bananas over both. So we've pulled together the best holiday-themed candles, and that includes everything from classic Christmas candles to more non-traditional options. And we've got candles that cover the entire holiday scent spectrum: peppermint, pine, sugar plum and everything in between.
Below, our picks for the best candles that are basically Christmas in a jar.
Winter Scented Candles
Soy Christmas Candles
Christmas Tree Candles