10 Best Compact Strollers To Make Traveling With BB Easy— Near And Far
by Kelsey Haywood Lucas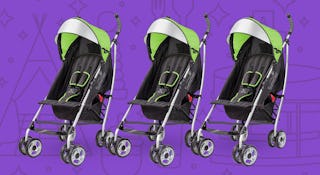 Need a lightweight, compact stroller for travel, or even just normal daily life? If yes, how smart of you. And if not … then you *should* be. A lightweight baby stroller (aka, an umbrella stroller) is as essential as a car seat or a diaper bag. Trust us, it'll change your life, whether you're taking a spin around the neighborhood or headed on a family trip to Disney (fingers crossed). But there are so many options to choose from — double and travel options, the futuristic car seat hybrid — it can be difficult to know which is best for your lifestyle.
RELATED: 8 Of The Best Umbrella-Ella-Ellas That Are Cute And Functional For Rainy
Need help narrowing it down? We chatted with experts Sylvana Ward-Durrett and Luisana Mendoza de Roccia, co-founders of Maisonette, a digital marketplace that curates your favorite children's brands and indie boutiques in one stylish and convenient place.
How To Choose The Best Compact Stroller For Your Needs
Luisana suggests starting with the basics. "Look for two things: durability and ease," she says. "How easily the compact stroller folds up is key."
Next, make a list of what matters most to you. "There are many options on the market for compact strollers, and some prioritize different sets of features than others," says Sylvana. "So it's all about finding what works best with your lifestyle and what features you want to prioritize."
RELATED: The Best Backpack Diaper Bags For Multi-Tasking Moms Who Carry A Ton Of Sh*t
Some key things to consider when browsing the best compact strollers of 2020…
Can you snap your carseat in it? (Some offer this standard, some with an adapter, others not at all.)
If your babe is younger, what's the minimum weight that the compact stroller can carry? Does it accommodate a newborn, or would you need to purchase an additional infant kit?
If your babe is older, when will their weight hit the maximum limit?
How easy is the compact stroller to clean? Can the cover be removed and thrown in the washer, or will you be spot-treating every single spill?
What kind of terrain will you be riding on? (Generally, the bigger the wheel, the smoother the ride.)
Where will you be storing it? Will it fit easily in your car? Your closet?
How much storage on the compact stroller is essential to you? (Some compact strollers now offer double-decker storage and extra hidden pockets.)
How easy is it to carry? How much does it weigh? (To make things easy for you, we provided weights of all our picks for the best compact travel strollers of 2020 below.) Does it come with a carrying case or strap?
Do you like the general look and feel? (You'll be spending a lot of time attached to this thing.)
Once you decide on the features you're looking for, scroll down to check out our picks for the best compact strollers.
RELATED: The Best Twin Car Seats For Towing Two Around Town
Best Compact Strollers
Best Easy Compact Strollers
Best Lightweight Compact Strollers
Best Budget-Friendly Compact Strollers
This article was originally published on