The Best Backpack Diaper Bags For Multi-Tasking Moms & Dads Who Carry A Ton Of Sh*t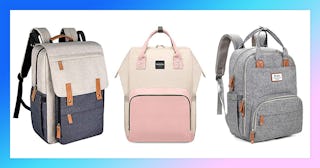 Amazon
In need of a stylish diaper bag backpack to carry all your baby's essentials — we're talking, wipes, diapers, an extra change of clothes, bottles, snacks, etc. — but don't want to be that mom? You know, the mom with an oversized, overflowing diaper bag that has everything, yet she can't find anything? We totally feel you. Being a parent shouldn't mean sacrificing comfort… or style. That's why you need a handy-dandy diaper mom backpack ('cuz remember, you're a cool mom). And dads, don't worry: You can be a cool dad, too (especially if you're equipped with some laugh-worthy jokes for kids.)
RELATED: These Backpacks For Boys Are So Popular For Back To School
Yep, these diaper backpacks are having a moment right now, particularly gender-neutral diaper backpacks for both Mom and Dad. So if you want to be able to pack everything your baby needs, but also look cute and stylish — while toting it, hands-free! — scroll on. Whether you're searching for a designer diaper backpack you'll hang onto for years or something a bit more cost-effective, we're sharing the best diaper bag backpacks for every style and budget.
Best Backpack Diaper Bags
Dad Diaper Backpacks
Stylish Diaper Bag Backpacks
Best Designer Diaper Backpacks
Being a mom, you already have your hands full (understatement of the century, maybe?). Well, say no more. We've got you covered with all the baby gear you could possibly ever want or need.