People Can't Stop Raving About These Diaper Pails
by Team Scary Mommy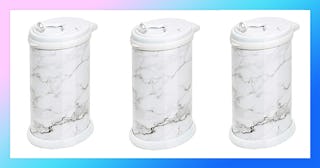 Amazon
Nobody likes changing diapers. Let's keep it all the way real: Changing diapers can be downright disgusting especially depending on what your little one ate for lunch. We've all experienced those diaper changes where we've cracked the seal to be shocked at how unprepared we are for the mess our tiny human has created, scrambling to keep the baby wipe momentum to avoid the mess spreading throughout the room. Want to make the whole process just a wee bit easier? Invest in a really, really good diaper pail. Diaper pails are one of many baby gear must-haves. You deserve a super easy disposal method after you've put in all that grunt work and finished wiping the pee and whatever else off of your hands, the floor and at times, the wall.
RELATED: Your Guide To The Best Diaper Bags — Cute, Functional, & No Kiddie Print In Sight
Are all diaper pails created equal? What makes a great diaper pail? What makes them better than just chucking the diaper in a regular trash can? We pulled together a list of some of the highest-rated, budget-friendly and innovative diaper pails around the internet, which feature a whole bunch of nifty features from triple odor control (um, yes please) to a self-sealing system. There are also childproof locks so your kids don't go digging through the trash. Plus, there are environmentally-friendly options and handy step pedals.
These disposals have got your sweaty, tired back. Diaper changing just got a whole lot less gross. Now if only they can create a diaper pail to pick up the child and physically change their diaper — "Alexa, change the baby." In the meantime, I guess we'll have to settle for these odor-reducing must-have mom essentials. Here are our top picks for the best diaper pails, according to moms.
Almost ready for baby's arrival? Be sure to check out the latest and greatest baby gear must-haves for moms!
This article was originally published on