The Best Drugstore Body Lotions to Combat Your Crazy Flaky Dry Lizard-Like (You Get It) Winter Skin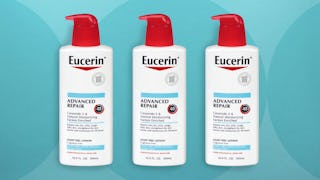 Drug store body lotions are the stuff that soft, moisturized skin is made of. Don't be fooled, ladies. While many of us often associate dry skin as a symptom of the wintertime blues, you can get flaky skin during the summer, too. Hellooooo, sunburn that leads to flaky-ass skin that you sure as hell don't want to show off by the kiddie pool. (We're not trying to sound like your mother, but sunscreen first, mamas!) And don't even get us started about over-air-conditioned spaces that inadvertently end up drying out your skin when in reality it should be glowing. Thankfully, there's no shortage of fabulous drugstore body lotions that will work overtime to make your old, tired, worn-out skin new again.
Each of these highly-effective, nutrient-rich lotions will feel like a 5-min-spa-treatment in a bottle. Remember to apply the product fresh out of the shower or bath for optimal absorbing. And if you think you'll be spending a lot of time outdoors, be sure to keep your eyes peeled for body lotions with SPF to protect yo'skin. Get on board with a slew of calming, conditioning, and made-for-you formulas that are here to help with your flaky AF body.
Best Body Lotion For Dry Skin
Best Body Lotion With SPF
Best Body Lotion For Eczema
This article was originally published on