12 Best Kids' Drum Sets— They're Noisy But They Are *Fun*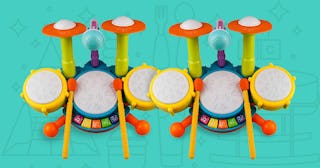 The best things about toddlers? They don't know that their sense of rhythm (and sometimes fashion) will be considered cringey in future years (aka middle school). They will bust a move anytime or anywhere, drum circle or not, seriously – dropping it low in line at Chipotle, doing a cha cha waiting for the light to change at the street corner, or breakdancing in the crib. Couple this with the incessant banging and hitting that is toddlerhood, and you have the makings of the cutest beginner rock band yet.
Toddlers love drumming for the same reason we all do, the transformative effect of the rhythm. Well that, and the fact that they'll do anything to get us to pay attention to them. Just when you thought you could have a minute to fold laundry or prepare dinner in peace. Wrong, wrong, wrong.
Whether you're looking for a quick distraction so you can finally take a pee break, or you've decided that it's time dad got payback for the day you've endured, check out our favorite picks when it comes to drum sets. Each of these junior drum sets will provide your littles with hours of entertainment. We promise that some even come with the blessing of volume control!
Best Baby & Toddler Drum Toys
Best Toddler Drum Set From Walmart
Best Drum Set for Beginners
Best Electronic Drum Set For Kids
Best Junior Drum Sets
Because banging, clapping, learning is what your toddler is best at shop all of our best toddler toy ideas.
This article was originally published on