28 Non-Basic Gift Ideas For Your Boyfriend
by Jenn Sinrich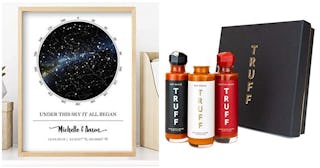 Amazon
Boyfriends can be great—they're just near-impossible to buy a gift for because pretty much everything they want they go out and buy themselves. They're also super non-descriptive when it comes to what the heck they need, which is why finding thoughtful gifts for a new boyfriend is usually a dreaded task (not to generalize—some BFs want things and are specific about their wants, and for that we are grateful). If your boyfriend's cooking savvy, you might try to see if he's due for a new cast iron skillet (to whip you up gourmet meals, of course) or tempt him with some home office essentials that could make his day-to-day easier. But, chances are, he'll come up short with any gifting guidance for you whatsoever.
Not to fear—we're here to help give you the 411 on what your boyfriend really wants this gifting season, whether he's the sweet and sentimental type or a total techie. Keep scrolling to see our best picks for what to give your boyfriend for any occasion.
RELATED: Best Gifts For People Who Can't Get Enough Of 'The Office'
Unique gifts for your boyfriend
Cute gifts for your boyfriend
Romantic gifts for your boyfriend
Personalized gifts for your boyfriend
Anniversary gifts for your boyfriend
Check out more great gifts to buy for loved ones this holiday season.