9 Best Gifts & Toys For 11-Year Old Boys & Girls, According To Experts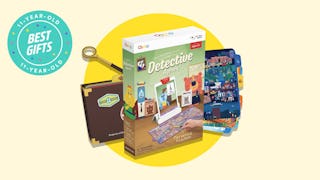 At 11, kids are right in the thick of their tween years — and there's a lot that goes along with that. They're starting to focus more on their social identity. Their friends (and the world outside of the home) are a much larger part of their lives. They're growing up! (Insert cry face here.) They want to do cool things— like fly drones and kill it in Spikeball with their friends. Coming up with gift ideas for a boy or girl who is 11 years old isn't hard, you just have to take it up a notch— especially if you're looking for the best 11 year old birthday gifts.
But with that comes its own unique set of challenges: the rigors of middle school, hormonal changes, an increased need for independence… you get the picture. "In the tween years, kids begin to set their own goals, so it is important to make them part of the decision-making process regarding their extracurricular activities," explained Dr. Chaye Lamm Warburg, DPS, OTR, and founder of Pediatric Occupational Therapy Services, LLC.
It's a lot to consider when you're choosing a gift for your 11-year-old. And that's precisely why we went to the pros. In addition to Dr. Warburg, we asked child educators and development experts to weigh in on gifts ideally suited for this developmental stage. Here's what they had to say on the subject.
For more gift inspo, check out our gift guides for 1-year-olds, 2-year-olds, 3-year-olds, 4-year-olds, 5-year-olds, 6-year-olds, 7-year-olds, 8 year olds, 9 year olds, 10 year olds, and 12 year olds.
Social Toys for Tweens
"This is a time where we also see a huge uptick in screen time and spending more time indoors rather than outside," shared Dr. Syeda Amna Husain, M.D., FAAP, of Pure Direct Pediatrics. "To combat that, I recommend thinking outside the box for toys. I like activities where children get some more face-to-face time with their friends rather than staying glued to a screen. So, instead of video games, maybe a ping pong table or a basketball hoop. Card games are a great and affordable option too!"
Journaling for Tweens
According to Kimberly Friedmutter, author of Subconscious Power: Use Your Inner Mind to Create the Life You've Always Wanted and member at large of UCLA Health System Board, one of the best things a child this age can do is be allowed "quiet time to zone out, daydream, literally lose themselves in thought."
Since today's 11 year olds are growing up with more technology than ever before, it can be difficult for them to create this time and space — making a journal a great gift to encourage a period of daily "zoning out."
Action & Accomplishment Gifts for Tweens
"Tweens are developing greater independence and self-reliance, can set goals they want to achieve and are eager to master new skills that they deem important. Encourage your tween to think about skills he would like to achieve and make a plan to develop them," said Dr. Warburg, recommending that you look to your tween's strengths and interests here.
If your child loves to cook, try a recipe kit. Do they love flowers? Gardening supplies could be good. These sorts of action and accomplishment gifts "develop autonomy, teach self-reliance, and develop executive functions," per Dr. Warburg.
Tech & Tech Accessories for Tweens
Middle-school English teacher Erica Jabali (who also has an advanced degree in cross-cultural education) says there's a trick to finding a great gift for kids this age.
"Consider leveraging what they are already interested in. For example, most of them are obsessed with technology," said Jabali. "This generation has been born and raised with technology, so leverage it to find activities that will challenge and engage them, rather than turn them into tablet zombies. Games by Play Osmo incorporate art, coding, math, and critical thinking skills, while using the tablet you probably already have at home."
Music-Related Gifts for Tweens
"My advice is one word: music. And, in particular, playing the piano. For families who want to get a head start on preparing their children for college, it has been established that playing piano not only increases child intelligence but the actual size and shape of the brain! And, on a personal level, piano can develop character, confidence, cultural understanding and pure joy," shared Elizabeth Venturini, a recognized expert in college admissions.
Active Play Encouragers for Tweens
According to health and fitness expert Michelle Miller of MM Fitness, this age — where a child's body is changing and adolescent may cause insecurity — is ideal for reinforcing healthy habits. Bonus? You can do so through gifts that encourage active play.
"This one simple activity greatly influences a child academically, physically, emotionally, mentally, psychologically, relationally, financially, and behaviorally," said Miller.
Jabali agrees, saying, "Team sports are another way to encourage pre-teens to be active, interact with other kids their age and work together towards a common goal."
All set on gifts for your 11-year-old? Check out more toys for different age groups!
This article was originally published on