12 Best Toys & Gifts For 7-Year Old Boys & Girls According To Experts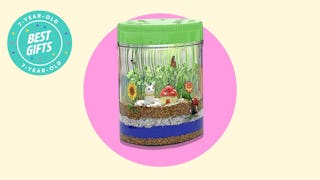 Does an upcoming birthday or holiday have you wondering about the best gifts for a 7-year-old in your life? As anyone who has ever spent time with a kid this age knows, it's a stage of curiosity, which often leads to asking lots (and lots!) of questions. They're beginning to mature and develop interests that could last a lifetime, so gifts like STEM activities, active toys, and real musical instruments could actually influence their future hobbies and careers. In a nutshell, the best toys & gifts for 7-year old boys and girls encourage them to explore the world around them.
For more gift inspo, check out our toys for 1 year olds, 2 year olds, 3 year olds, 4 year olds, 5 year olds, 6 year olds, 8 year olds, 9 year olds, 10 year olds, 11 year olds and 12 year olds.
Claire S. Green, President of Parents' Choice Foundation, the nation's oldest nonprofit dedicated to finding quality media and toys, explains that 7-year-olds have reached a point where they know what they like and are even eager to show us adults how to do certain things correctly. (Hey, sometimes we need to be told what's what!) "They've started developing their own interests in toys and games, sports, books and maybe even music," Green says. "It's time to start encouraging these interests — unless of course, the interests are detrimental to life and limb." (Important caveat.)
While the exact picks below were not chosen by Green, we curated this list of the best gifts & toys for 7-year-olds with her advice in mind (including birthday gift ideas for 7 year olds). The goal? To help keep their brains and bodies busy as they begin establishing their independence.
Active Games & Outdoor Toys for Kids
"Couch potatoes are out; movers and shakers are in," Green says. "With gross motor skills on the rise, bikes, scooters, stilts, and classic games like Twister [are] great."
Board Games & Puzzles for Kids
"Although their problem-solving and strategy skills are improving, don't overestimate your child's ability. [But] don't underestimate it either!" Green advises. "Age grading is on packaging for a reason. Choose games and puzzles with increasing levels of difficulty. Master one level, gain confidence, advance. Do you have a family game night? Try letting your seven-year-old read the directions aloud – and suggest they show younger siblings how to play."
Building Toys for Kids
"Yes, LEGO® is king. And queen. Open-ended brick building toys have a great deal to offer – especially if they're picked up after play," Green explains. "The themed sets do extra duty, as imaginative play moves to the next level."
Arts and Crafts for Kids
"Yes, creativity is on the rise, but don't expect a Picasso or a Pulitzer at every turn. What [7-year-olds] really want are the tools, time, and space to create – and an appreciative audience," Green says. "Some kids will want to personalize their space and wardrobe, others to make gifts, others to write stories or act out plays."
Science Toys for Kids
Green makes a timely point about the importance of science toys: "What 7-year-old wouldn't want to make a volcano on a kitchen table? Or see how high and far a rocket can fly? Or help protect the planet?"
Think these picks are genius? Us, too. Check out our other gift guides for every recipient and occasion.
This article was originally published on