8 Best Kids' Swimming Goggles That Don't Leak Or Fog— #You're Welcome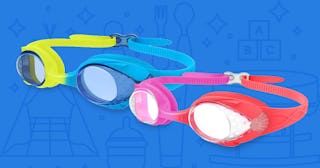 Nothing spoils a pool day faster than a pair of crappy kids' swimming goggles. Swimming goggles that leak, fog, or keep slipping off is not something a child wants to be bothered with—and to be frank, neither do we (putting on bathing suits and swim diapers was a battle all its own, and don't even get us started on sunscreen). Red-rimmed eyes, along with those raccoon imprints from too-tight swimming goggles, are true tell-tale signs that your little might need a new pair of kids' swimming goggles.
RELATED: Pool Toys That Will Keep Your Water Babies (And Big Kids) Busy For Hours
When looking for kids' swim goggles, you want to pay special attention to how the eye sockets (or gaskets) fit little eyes. It's not enough to tighten the straps on an adult pair and call it a day. If the eye gaskets are too big, you're pretty much guaranteeing constant leaks. Here is a tip we learned from the pros: for a perfect fit, make sure that the goggles suction to your kiddos eyes without a strap, even if it is just for a few seconds. That way when you put the strap over their head, the likelihood of leaking is zilch.
You also want to pay attention to how straps are made. (Anyone who's had swim goggles with those rubberized bands that look like something that holds broccoli knows that these are essentially hair ripping devices.) The new generation of goggles have much better rubber straps, and if you have any concerns, go for silicone swim goggles straps—even Rapunzel wouldn't have a hair issue.
RELATED: Get Their Butts Off The Couch With The Best Kids Fitbit Watches And Fitness Trackers
Pretty much every pair we found boasts super-duper UV protection and tinted lenses—trust us, learning to float like a star fish is much easier if your kid isn't blinded by the blazing sun— and are guaranteed to make time by the pool less whiny (how many times can they ask for a towel to dry their eyes?).
Now, that you're prepped for the pool, pull out the new rash guards and let the kids swim their crazies out.
Best Kids Swimming Goggles All-Around
Best Swimming Goggles for Swim Team
Best Swimming Goggles for Toddlers
Best Prescription Swimming Goggles
Best Swimming Goggles for Pros
Best Swimming Goggles for Youth
Best Swimming Goggles for The Beach
Best Swimming Goggles for Every Day
For more fun in the sun, stock up on the latest kids gear picks for summer.
This article was originally published on