9 Best Pairs Of Maternity Underwear 2021: Over Belly, Under Belly & Itch Free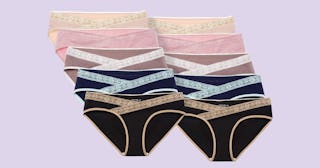 "I don't need maternity underwear," you think to yourself as you shimmy a pair of pre-preggo panties over your widening hips. At a certain point, those seams will start digging into your growing belly or the undies will start rolling down your bump and you'll have to hike them back up every five seconds. And those tags and anything itchy! Things that never bothered you before becoming pregnant are now a full-blown source of frustration.
Lucky for all of us, maternity underwear in 2021 is practical, comfy, and — dare we say? — cute! There are options, too: plus-size, full-coverage, bikini, and maternity thongs (gasp!), as well as over- and under-the-belly undies that you can even wear postpartum.
Now speaking of over and under, this is where the conversation gets personal. Do you want something low that hits under the belly, that feels like your pre-pregnancy undies? Or does something higher, that smoothes across the belly up to the bra, sound so much more comforting? It's a serious debate, according to our friends at Peanut— an app that connects like-minded women throughout fertility, pregnancy, and motherhood. 51% said over-the-belly is the way to go, while 49% said under is the only choice. From the under-belly team, we heard, "I hate anything at this moment that goes over my belly. Can't stand it." but from the over-belly team, especially after giving birth, mamas said, "Over! I had a C section and couldn't imagine under!"
But no matter which pair you choose, it's time to accept that maternity panties are a pregnancy essential, right up there with a decent looking delivery gown and bump-friendly leggings (because you've earned the right to wear pants without a button). Yes, you might have to retire your teeny-tiny underthings for a little while, but just think, you'll save them from being stretched out.
Best Maternity Underwear According to Amazon Reviewers
Best Size Range: Regular & Plus Size Maternity Underwear
Best Undies for Over OR Under-The-Belly
Sportiest-Looking Maternity Skivvies
Best High-Waisted Maternity Brief
Best Undies for Stocking Your Panty Drawer
Best Bump Shapewear for Dresses & Skirts
Best Thong for Pregnancy & Beyond
Best Full-Coverage Maternity Thong
There are a ton of decisions to make throughout pregnancy and parenthood, but we're here to help. Check out our mom-approved pregnancy essentials and baby gear picks to make life a little bit easier!
This article was originally published on