20 Family-Friendly Weekend Getaways In The Midwest
by Megan Hungerford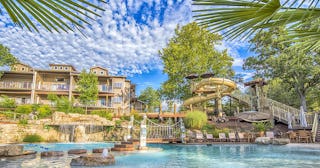 We get it, you need a weekend getaway. Brownie points if it's a kid-friendly getaway. If you live in the Midwest or plan on visiting, there are so many cool and fun travel options for parents and kids. If a family weekend getaway is in order, let the internet (and Scary Mommy) be your friend. No need to travel to exotic lands — explore the many Midwest family vacation spots where the shores of the Great Lakes reach five different states. Beyond the Great Lakes, the Midwest is covered with rivers, inland lakes, and absolutely stunning greenery offering boundless outdoor adventures. Looking for an urban retreat? The Midwest is home to some of the nation's most exciting cities (hello Chicago!) with deep culture, adrenaline-pumping attractions (ever heard of Kings Island), and some of the best Children's Museums and Zoos in the country!
Even if it's only for a few days, here are some of the best spots you and your family will love. Because sometimes, we all deserve a retreat away from real-life (yup, kids included. It's not like they're enjoying remote learning in 2021 more than you are). So tell your youngsters to drop their cool toys, and tell your spouse to leave work emails alone — it's time for a mini family vacation! Here are the best weekend getaways for families in the midwest!
Editor's Note: Prices listed are per night. Prices may vary.
Family Weekend Getaway Ideas in the Midwest
Among Nature
In The City
Cool Midwest Family Getways
Looking to live more of your best life traveling and at home? Check out all our favorite products, services, and some of the best Mom advice you can find here.