This Is The Best Nipple Cream, According To Thousands Of Boob Owners
by Jenn Sinrich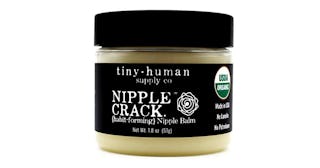 Amazon
One of the best pieces of breastfeeding advice you REALLY need? (If you plan on actually breastfeeding that is.) Get yourself some good nipple cream or nipple balm. Everyone from your nosy Aunt Jill to that perfect stranger you meet in passing loves to dole out unsolicited advice about breastfeeding—even if you're not sure you plan on doing it! "Your breasts might be too small to breastfeed and that's OK" or "It hurts like hell, so don't be afraid of formula." As if we cared what they thought…or felt that it applied to our life in any way.
But the real pearls of advice you're going to get about the breastfeeding journey (more like all-out endeavor) is going to come from moms who are or have very recently gone through it. It's kind of like how they say that you forget what labor and delivery felt like about a year after giving birth—you kind of forget how arduous, albeit blissfully beautiful breastfeeding can be.
How to treat sore nipples from breastfeeding
According to Dr. Anna Cabeca, an OB-GYN, best-selling author, and fellow mama — while breastfeeding is 100% encouraged, it can also cause sore, cracked, and uncomfortable nipples. A few remedies include balms and creams (of course), nipple shields, and a few of her favorite home remedies.
"It is good practice to put purified coconut oil on [sore nipples]. It has the benefit of being anti-bacterial, anti-fungal, and it is safe for baby as well as soothing for mom," Dr. Cabeca says. "When the time comes to stop breastfeeding or if there's an engorgement of the breasts, there's an old trick that works really well, and that I am personally a big fan of… Place ice cold cabbage leaves over your breasts! It provides a similar amount of pain relief to a hot compress."
***
When you're a new mom, what you really need is the nitty-gritty on what products can help enhance your breastfeeding experience and make it easier (if that's what you plan on doing!). Luckily, there is an increasing number of brands dedicated to making the breastfeeding journey more streamlined, manageable, and even enjoyable. From nursing bras to breast pumps, here are some of the breastfeeding products that moms swear by.
Best Nipple Balms and Creams
Best Breastfeeding Pump & Gear
Best Breastfeeding Accessories
Check out more baby essentials so you're well-stocked for the weeks and months to come.
This article was originally published on