If You Build It, They Will Go— Outside That Is— With These Great Outdoor Playsets For Toddlers
by Jenn Sinrich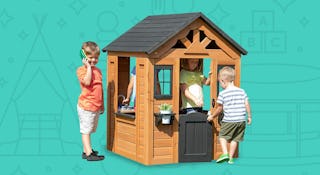 Looking for an outdoor playset for your energetic kid? We hear ya. Toddlers, am I right?! They have this pent-up energy that like, never goes away. No matter how many times you replay Frozen, no matter how many times they sprint around the kitchen table, and no matter how many games of hide-and-seek you play with them, it's like toddlers have a fully-charged battery pack ready to go at all times.
You know what could help with that, exhausted mamas? F***ing outdoor playtime.
Hear me out, okay? Kids — especially toddlers — want to play, want to run, want to get messy, dirty, muddy. And with one of these top-rated, toddler-tested, and mom-approved outdoor playsets, you can give them the mess and play they want, plus the naptime you want post-playtime.
Revert back to the "good ol' days," mamas, when kids were sent outside for playtime. They need to burn off that energy — heck, they want to burn it off. So, give the toddlers what they want! From the best climbing toys for toddlers and best outdoor toys for toddlers to the best swing sets for toddlers, these fully equipped outdoor toddler toys will give your tots what they want and ultimately, what you need.
Give 'em a few hours in the sandbox or 30 minutes on the swings… They'll be snoozing in no time. And you know what that means: Time for your well-deserved nap-time wine-time!
Related: 18 Lively Outdoor Games For Toddlers That Will End In Giggles
Looking for more ways to busy your little ones? Shop quarantine-friendly toys to keep your kiddos entertained for hours!
This article was originally published on