Pacifiers So Awesome, They'll Calm Down The Fussiest Of Babies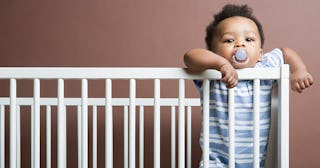 Getty Images
Pacifiers come in all different shapes, sizes, colors — you name it. But the one thing they all have in common is that they (usually) get your baby to stop crying without you having to whip your boob out (again) or do insane amounts of squats so you can score three solid hours of uninterrupted sleep. When it comes to shopping for a pacifier, it's no surprise if you feel a tad overwhelmed. Like most baby gear departments, the pacifier aisle (so to speak) is overflowing with brands offering all sorts of different types.
The most common two types are cylindrical, which is shaped like a pinky finger, and "orthodontic," which is marketed to be better for oral development, explains Melanie Potock, Pediatric Speech Language Pathologist, Feeding Specialist and author of Raising a Healthy, Happy Eater. "Orthodontic pacifiers are molded to hook behind the front gums and rest up on the hard palate or rounded at the tip for the same purpose," she says. A third shape, which goes by the term "flattened," looks like a flat oval.
What should parents look for when buying a pacifier?
The American Academy of Pediatrics (AAP) recommends purchasing pacifiers that are constructed of one single piece of material (silicone) for both the nipple and mouth shield. This, Potock explains, helps prevent facial injuries that occur when an infant falls onto a plastic pacifier mouth shield, bottle or hard sippy cup. "Two separate pieces also increases the risk of a piece breaking off and causing choking," she adds. She also recommends that pacifiers have ventilation to cut down on moisture and be both latex- and BPA-free.
Whether you're expecting or well into the infant phase, these pacifiers get the mom stamp of approval.
Now that your pacifier supply is next level, stock up on these other baby gear essentials.
This article was originally published on