The Best Sleep Training Alarm Clocks That Make It So You Can Finally Sleep In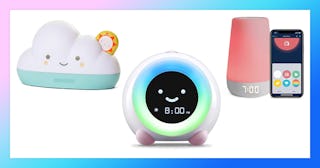 Amazon
A toddler sleep training clock can be the difference between a 4 am wake-up call and a full night's rest … do we have your attention yet? We thought so. Maybe you're struggling to transition your tot from a foldable crib to a big kid bed, or perhaps most mornings start with a bouncy child bursting into your bedroom and asking you if it's time to get up. Mama, we have a solution for you, and it's kind of genius. As opposed to a regular kids alarm clock, a sleep trainer clock, aka, an OK-to-wake clock, is a toddler-friendly way to let littles know if it's okay to get out of bed — all without needing to actually tell time. These clever gadgets give your kiddo the cue when it's time to sleep or time to rise, and the best toddler alarm clocks do double-duty as nightlights and sound soothers, too. Some even have extras like built-in monitors and Bluetooth speakers so your tot can listen to their own tunes.
RELATED: The Best Smartwatches For Kids: An Ultimate Guide
But first — do they really work? Wendy Sue Swanson, MD, MBE, FAAP, pediatrician and Chief Medical Officer, SpoonfulONE, says that yes, they can help with sleep training. "[Okay-to-wake clocks] may seem like a gimmick and yet many toddlers love and thrive with rules and clarity," she explains. "These clocks can help in setting expectations." Her advice to parents is to set a realistic goal for your tot so that they can succeed — in other words, don't expect your early-riser to suddenly start sleeping in. However, setting the clock for 6 am when your child usually wakes you up at 5:30 or 5:45 is a good place to start.
Dr. Swanson points out that a sleep training clock will only be effective if your LO is ready for it. "The typical age that these devices are recommended is between two and three years old," she says. "Your baby has to be old enough to understand the concept in order for it to work properly." And once your tot finally gets into a routine, you'll want those good habits to stick. "Provide encouragement when they do sleep or stay in bed until the light goes off," she adds. "I'm a big fan of sticker/reward charts."
Whether you're looking for a no-frills, just-do-the-job sleep trainer clock, or a fully-loaded techie lover's dream (that you'll want in your own room, too), we've rounded up our favorite okay-to-wake alarm clocks to help everyone catch more zzz's.
Best Sleep Training Night Light Clocks
Best OK-To-Wake Clocks
Best Alarm Clocks For Toddlers To Teens (& Beyond)
Looking for more been-there-done-that advice? Our mom-approved baby gear picks will help make your life just a little bit easier.
This article was originally published on