Let It Rip With The Best Beyblade Toys (That Even Parents Think Are Pretty Cool)
by Megan Hungerford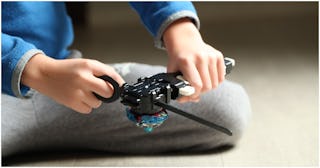 Getty Images / OlegMalyshev
The best Beyblade toys will have the whole family battling with a "3, 2, 1 – let it rip!" (yes, even you Mom!). Beyblade Burst toys are unlike any other kids toy around, so although their collection of knight toys and rocket launchers may have their toy box overflowing, we promise you're not buying the same stuff over and over again.
Related: 100+ Hard Riddles That Will Make You Think Twice
At first glance, you might not get why these battle tops are so fun. (We admit, we didn't fully get it at first, either.) They seem like just another toy that will ultimately sit in a pile of ignored junk after 5 minutes of playtime. But this is where parents are wrong! There is so much than meets the eye. First off, you can't beat the thrill of the launch and yelling "3,2,1, let it rip!" adds to the fun. On top of that, each Bey has different strengths and individual origin stories. All of this incredible Beyblade mythology is fully explained in the captivating Beyblade animated series (which happens to be Japanese anime based on a manga series) and it's soooo awesome! The characters are strong yet sensitive, the storylines are suspenseful, and there are tons of Beyblade battles that your kids will spend hours reenacting.
If your kids are already into Beyblades, then you know there is nothing quite as exciting as a burst finish from a Beyblade Burst Turbo toy. But for those of you who are not yet experts, here's a quick intro into the world of Beyblades.
Beyblade History
Beyblade Metal Fusion toys are facilitating battles on living room floors worldwide, thanks to Takara Tomy. Originally created by Japanese toy giant Takara in 1999, (they've since merged to create Takara Tomy), Beyblades have quickly spread across the globe. Beyblades are readily available stateside thanks to Hasbro, which is the licensed manufacturer of Beyblades in North America. But there is something still incredible about getting your hands on an original Takara Tomy Beyblade burst toy from Japan. And thanks to Amazon, it's easier than ever to track these originals down.
Beyblades 101
All the best Beyblade toys are made of 3 parts: The attack ring or energy layer is the colorful top part of the Bey that is designed to strike the opposing battle top. The forge disc is a simple disc that secures onto the energy layer and gives the bey its weight. Lastly, the performance tip is where the Bey balances and moves on the floor or stadium. All these pieces securely attach to one another to create one of four types of Beys: attack, balance, stamina, or defense. All you need now is a ripper to pull with all your might and you've got a bonafide Beyblade battle!
Beyblades are a ton of fun! There is competition, imagination, and even some cool science all wrapped up into one toy. And although Beyblades can be played on any flat surface, the best Beyblade toy battles usually happen inside an arena. Regardless if you have an arsenal of Beyblade Metal Fusion toys at home (and have likely downloaded the new Beyblade App by now) or the world of Japanese battle tops is brand new to you, we want to welcome you to the exciting world of Beyblades.
Without further ado, we've rounded up the best Beyblade toys available so you and your kiddos can have some action-packed fun. Also, let us congratulate you on becoming the coolest parent around.
Best Beyblade Toys
Best Beyblade Burst Toys
Best Beyblade Turbo Burst Toys
Best Beyblade Metal Fusion Toys