15 Books To Teach Kids About ALL Of The Winter Holidays and Traditions Around The World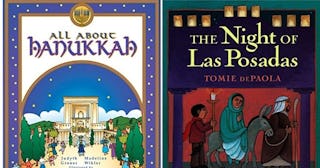 Amazon
Looking to teach your little one about multicultural holidays and traditions to expand their minds? We all know that Christmas tends to steal the show when it comes to winter holidays, but there are many ways to celebrate the winter season. Books are a great gift and a great way to connect with our kids and teach them about all holidays.
This year, teach your kids about the holiday traditions around the world with a few non Christmas holiday books. From books on Kwanza and Thanksgiving to Diwali and Hanukkah–these multicultural books for toddlers and other youngsters are here to inform and celebrate the traditions of others. They can also help teach about your own heritage too! Not only is it important for our kids to know there's more to the season than getting gifts, it can also be a great way to start new, memorable traditions as a family.
Here are the Scary Mommy top picks for holiday children's books that will teach our kids all about different winter celebrations. So, curl up with some hot cocoa, a cozy blanket, and enjoy some reading time with your kiddos.
Winter can be long which makes it a good time to teach our kids (and educate ourselves) about different cultures and how traditions are honored around the world.