The Best Kids Car Wash Toys For Squeaky-Clean Fun -- Scented Pine Tree Not Included
by Keri Pina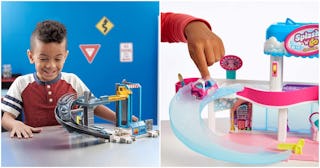 Amazon
Did you know car wash toys were a thing? If not, we're here to inform you that they are (and we're not upset about it because they're pretty freakin' cool). It makes sense, if you think about it, since kids of all ages love car toys of all kinds; there's toddler push cars, toy race car tracks, remote control vehicles, and go-karts for kiddos who are a little more daring — and that's just naming a few.
Real cars get their attention for being loud and fast (a sensory dream), and toy cars are a way for them to recreate all that fun stimulation, and on that note, kids also go nuts for water play and all the sensory exploration. So really, it's only natural that car wash toys are a huge hit and a great way for kids to play with their current car collection in a new, squeaky-clean (albeit, wet) way.
RELATED: Bubble Guppies Has Taken Over Our Lives— Good Thing The Toys Are So Cute
For the kids who would love to spend hours detailing their dream cars, we found the best car wash toys on the internet. And for parents who don't want to spend their free time using a wet vac to clean up, we have a few options that don't even need water. So hey, get your (toy) car washed today.
Best Toy Car Washes
Best Kids Car Washes
This article was originally published on