The 11 Best Cat Strollers For Transporting Your Furry BFFs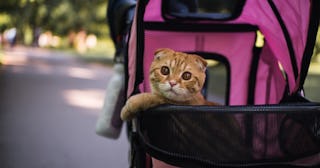 Andrej Kyselica/EyeEm/Getty Images
Even if your cat sticks to the indoors, it's nice to mix it up sometimes and bring them for a safe adventure outside. And whether you're out for a walk through the neighborhood, out running errands and want to bring a companion with you, or taking your pet to a vet, the best cat strollers make transportation easier. And once you start getting into cat gear, there's no end to the fun you can have with your furball. Maybe you add a stroller cover for rainy days, or stroller mittens to keep your hands toasty pushing kitty through the snow. After all, it sure beats trying to strap them onto your chest with a baby carrier.
Plus, strollers are convenient for plenty of reasons. Sure, they can help you tote your pet around with ease. But, they can also help you carry bags while walking to the grocery store. Or, they might just help inspire you to explore your own neighborhood on a particularly nice day.
While some people might assume that strolling around with your cat is a bit ridiculous, they don't know half of the benefits. Strollers are a great option if your furry friend is anxious, injured, older, or can't be trusted on a leash. Chewy claims that strollers have also been beneficial for cats that get nervous at the vet. Strollers can give cats a bit more space than a carrier, which may put them at ease.
Ahead are 11 of the best cat strollers — including ones that can accommodate multiple animals, so you don't have to pick your favorite feline.
Best Cat Strollers
Double Cat Strollers
Cheap Cat Strollers
For more great products for your family (two and four-legged members), check out our other Home & Kitchen picks.