37 Things You'll Want If You Like Cats More Than Humans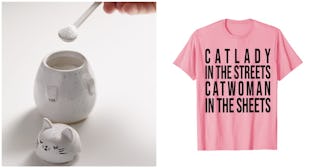 Urban Outfitters/Amazon
Looking for cat gifts for the cat lovers in your life? You've come to the right spot, because we're got some purrrfect present ideas. (Yep, we had to make that pun, those are the rules.) If you know someone who would rather stay inside, cozy up, and have a convo with their cat (or cats) than venture outdoors, you've probably heard about it a time or two. After all, cat lovers are don't just kinda-sorta love their kitties. They eat, sleep, and breathe for their four-legged friends.
If you are plopped down on the sofa with your own kitty (or not) and looking for some cat gifts for your bestie, lover, mother, or co-worker, you've come to the right place. Meow.
Best Gifts for Cat Lovers
Gifts for Cat Lovers on Amazon
Funny Cat Gifts
If you are all stocked up on your shopping for the cat lovers in your life, it's time to tackle the movie lovers in your life with these great finds.