The Best Crib Mattress Covers To Protect Baby's Bed (Because Accidents Are Going To Happen)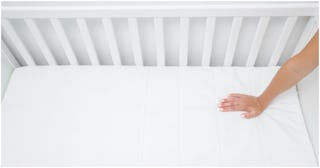 Getty Images/FotoDuets
A great crib mattress cover (or two) is a necessity for protecting one of your most important baby gear investments. Maybe you can relate: After a lot of careful research, you've finally picked out the crib, you've picked out a safe crib mattress, and you've found the cutest little sheet set there is. But there's one thing you may have forgotten to pick out: The best crib mattress cover out there. If you're debating whether you actually need one or even which one to buy, you've come to the right place.
Is a crib mattress protector necessary?
Yes! A crib mattress cover doesn't seem like it's that important, but trust us, you definitely want a good one. It'll protect that expensive mattress from the inevitable stains — think blowouts, spit-up, diaper leaks, and general spills. Throwing a mattress cover in the wash to clean is so much easier than scrubbing stinky stains off of a mattress. (And trust us, baby stains are no joke.)
What is the best crib mattress cover?
When searching for the perfect crib mattress cover, you'll want to opt for something waterproof so that it really acts as a barrier between the stain and the mattress. Get a cover that's both firm and thin. Something too plush might seem nice and comfy (and probably is!), but it could pose a suffocation risk and just isn't considered safe for a newborn baby. Of course, you'll also want something as tight-fitting as possible, so make sure to consider the measurements of your mattress and the cover before purchasing. While most of the covers fit like fitted sheets, some are zippered options that may be a little easier to put on and take off.
Not sure where to start? Here's a look at some of the best crib mattress covers and protectors available.
Best Crib Mattress Protectors & Covers
Waterproof Crib Mattress Covers
Crib Mattress Covers With Zippers
This article was originally published on