21 Tempting Things Actually Worth Splurging On During Cyber Monday
by Lindsey Martin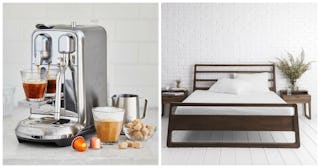 Sur La Table/Parachute
Cyber Monday 2020 sales kick off today and you know what that means … it ain't over! With COVID-19 changing just about everything part of daily life this year, it also seems that Black Friday and Cyber Monday promos are running a little bit differently, too — in a good way! Many sales have become full-on shopping spree-worthy events that last all weekend or week, but many of them end today. Since we know you mamas are super busy, we cut through the clutter for you and narrowed down the best Cyber Monday deals on Amazon, the best Fenty Cyber Week must-haves, the best Amazon Holiday Dash sales, and more!
Whether you're on the hunt for killer deals on tech gadgets, kitchen appliances, home goods, beauty products, we've narrowed down some of the best deals online, from Cyber Monday exclusives to week-long steals that are about to end. So scroll through and find the sale that speaks to you, and don't delay! These deals are sure to go fast.
Like you, this story will get better with age. Keep checking back through Cyber Monday as we add even more great deals.
Best Cyber Monday deals we're splurging on ourselves:
Top Retailer Sales:
Go forth and start your Cyber Monday shopping ASAP. There's nothing like discounts to get all of us in the holiday spirit.
If you loved these deals, there's more where that came from! Browse more of the Cyber Monday sales we're looking to buy.