18 Best Despicable Me Toys (& More) To Fuel Your Kiddo's Minion Obsession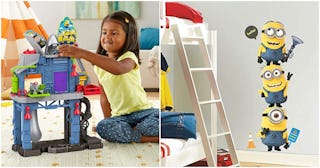 Amazon
Despicable Me toys: Your kid's newest obsession. Just when you thought your child was over their last movie obsession that you watched on repeat daily—boom, they've got another one. And if you're lucky enough for that brand-new obsession to be Minion-centric, buckle up, Mama!
RELATED: Toy Bow And Arrow Sets For Your Kid To Channel Their Inner Katniss
The 2010 cult classic, which now has 6 sequels and counting, follows a reformed super-villain named Gru. He's played by Academy Award winner Steve Carell (you read that right, The Office fans) as he develops a masterful plan to steal the moon. He is joined by an army of tiny yellow Minions, which you'll come to know and love very well if you don't already, who help ensure that nothing stands in his way. Not to ruin any of the fun for you, but this movie is actually quite likable for adults, too.
RELATED: 16 Best Remote Control Cars For Toddlers That'll Trip You Up But Make Them Smile
If Despicable Me is the in-demand movie in your home, you're going to need some toys to go along with the theme. Here are some of the top-rated, mom-approved Despicable Me toys out there.
Best Despicable Me Toys
Best Minion Toys
Best Talking Minion Toys
Best Minion Legos