These Disney Advent Calendars Will Deliver All The Adorable Holiday Spirit
by Team Scary Mommy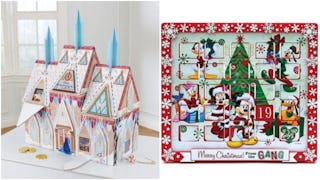 Image via Walmart
Is your family officially counting down the days until the holidays? Are you already prepared to eat all the candy canes and drink all the egg nog? If so, I'd like to turn your attention immediately to Disney advent calendars, which will keep the Christmas spirit alive and well (despite the fact that we're super, super early). Advent calendars are maybe the most fun part of Christmas (pretty much all of us can admit that the anticipation of the holidays is the most exciting part of the holidays — that, and family time), so we love kids' advent calendars, as well as adult advent calendars (hello, 24 days of unique coffees, teas, and wines). Prepare for an explosion of colorful cuteness.
These are the best Disney advent calendars in 2020:
Here's to the joyous holiday countdown and listening to Christmas music before it becomes socially appropriate.
This article was originally published on