Dog Pool Toys Exist So Your Pupper Can Live Their Best Life This Summer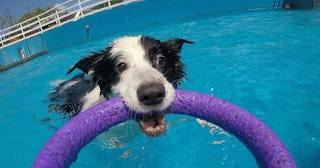 Getty Images/ Chén Yu Zhào / EyeEm
If you have a pool and pooch, you gotta get some dog pool toys. We don't make the rules. If you have a dog who loves playing in water, near water, or with water, there's no better time than the start of summer to buy new dog toys for the pool (even if it's the inflatable variety), or beach. Because if there's anything dogs love more than water, it's water toys.
The summer heat can be brutal, so taking your pup to play at a pool, beach, or any clean and safe body of water can cool them down tremendously. While you're there, you might as well help them get their energy out by providing some fun toys to fetch, chase, chew, or lounge on. And by lounge on, we mean on top of a legit pool float designed specifically for dogs. Are dog-friendly piña coladas a thing?
We rounded up the internet's best water toys for dogs, including floating toys for the pool, toys to play fetch with at the beach, and toys that can be hooked up to a hose for some wet and wild summer fun. Wet dogs are messy and smell like, well, wet dogs, but they're the happiest good dogs on the planet because… water! And seriously, is there anything more enjoyable than watching your very wet dog having the absolute best day ever? Aside from watching your very dirty dog take a bath, that is. (If your dog doesn't like getting wet, check out these ridiculously adorable dog raincoats for those summertime rain showers.)
Not that your dog could possibly love you any more than they already do, but if you get them a new water-friendly toy to play with, it definitely won't hurt your relationship. Take a look at our list below to find the right water toy for your dog.
Best Dog Pool Toys
Best Floating Dog Toys
Best Dog Toys You Can Hook Up To The Hose
Best Dog Beach Toys