The Best Dog Rain Booties That Are Water Resistant, Comfy, And Obviously Adorable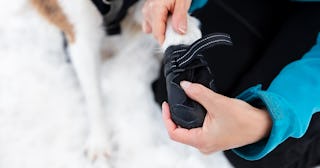 Getty Images
Just when you thought your dog couldn't get any cuter, put them in dog rain boots. (Just as cute as kids' rain boots, if not cuter.) Go ahead, squeal. Not only are dog rain boots cute as hell, but they're also practical and protective, whether you're out on the hiking trails or walking on hot pavement or out for a stroll on a rainy day. And they go perfectly with a dog rain jacket.
Not all dog rain boots are alike, though, so keep a few things in mind as you shop for a pair. You'll want to buy dog boots with a material that is water resistant, with a rugged, textured non-slip sole. Pay close attention to the brand's size guidelines too, since paw sizes vary from breed to breed and dog to dog. Boots that are too big will slip off and boots that are too small; well, you can't wrestle a dog into those.
Do dogs need rainboots?
According to Nicole Ellis, a Certified Professional Dog Trainer, Expert Trainer on Amazon Prime's The Pack, and Pet Lifestyle Expert with Rover, most dogs don't need boots in the rain, but it never hurts to have extra protection! She also notes that you definitely should get your pup boots during snow season due to the salt and chemicals used on most wintry roads.
"When looking for dog boots, whether for rain or snow, good traction and fit are the two most important factors. You'll want to measure both the front and back paws as they are generally different sizes," says Ellis.
To measure your pup's paw, place the paw on a piece of paper and gently press down on the top to mimic how the paw spreads when your dog is walking. Mark the left and right sides of the paper, then measure the distance between the marks and choose the next largest size. If between sizes, go up.
If your dog has trouble walking at first, be patient and try again. Praise your pupper for trying new things, and give them treats so they have a positive association with the boots. It's not unlike putting shoes on a toddler. Try, try again.
Scroll on for six of the best dog rain boots. Then send us pics of your cute pups in boots, will ya?
Best Dog Rain Boots
Best Waterproof Dog Boots
This article was originally published on