The Best Dog Raincoats To Help Keep Your Pooch AND Your Home Dry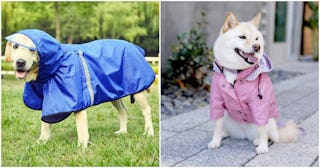 Amazon
Dog raincoats for your favorite pooch? Pup parents, rejoice! April showers may bring May flowers, but they also bring wet dogs. But instead of spending too much time toweling off your pup after a rainy walk (not with the nice towels — gah!), or avoiding rainy walks altogether, you simply need one inexpensive garment: a dog raincoat. So until roller skating weather rolls around — that is, warm air and dry, sunny skies — your best bet is to equip everyone in the fam with gear that'll protect them against the elements. (BTW, we have top picks for kids raincoats and mens rain jackets, too.)
How do I choose a coat for my dog?
Nicole Ellis is a Certified Professional Dog Trainer and Pet Lifestyle Expert with Rover, the app that connects pet parents with professional dog walkers, dog sitters, pet groomers, and more. In other words, she's a pro at knowing everything your dog needs, including raincoats.
"When searching for raincoats for your pup, you want to ensure fit above all else," Ellis says. "Make sure that their legs, belly, and armpits aren't rubbing excessively. A snug fit that won't irritation or annoyance is best. Also, consider the type of collar or harness you use and ensure it will work with the raincoat on."
One of Ellis's personal favorite is the Paikka Visibility Raincoat but mentions Ruffwear and Ellie Dog Wear as great options too.
"I personally love the Paikka raincoat. It's my favorite for myself and my dogs because it's stylish and effective, but more importantly also highly reflective when light hits it, which is perfect for our walks on those dark rainy days or nights," she says. "Some other favorites of mine are by Ruffwear and Ellie Dog Wear. Ruffwear's are for the active pup, while Ellie Dog Wear is a bit more fashionable."
***
Don't you worry dog mama, we've shopped the 10 best dog raincoats for you, for both small breeds and large, from petite teacup Pomeranians to big Bernese mountain dogs and every cute pooch in between. Read on for windproof, rainproof, and reflective dog raincoats that will make your spring so much easier.
RELATED: 8 Best Dogs For Seniors Looking For A Canine Companion
And really, is there anything cuter than a dog in a raincoat? We think not.
Best Dog Raincoats
Best Large Dog Raincoats
This article was originally published on