These Cute Dog Sweaters Are The Paw-fect Layer For Your Canine Companion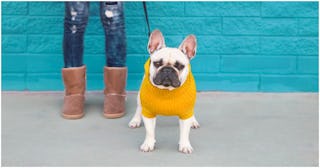 Getting a dog sweater for your beloved pooch — as well as spoiling them with lots of other accessories and toys — is one of the fun parts about being a dog mom. (And if you don't have one yet, keep this in mind when the kids coerce you into getting them a puppy … it'll happen eventually, no joke.) If your dog is small or older, and you live in a place where it tends to get pretty cold outside, then it's definitely a good idea to stock up on some warm layers. Your fur baby will wear it throughout the fall and winter, and probably well into the spring, too. So you'll want to pick a good one, because the best dog sweaters are protective, comfortable, super soft, and fun to look at.
Dog sweaters aren't just a fashion statement for your pet (although they can be très chic): depending on the type of pup you have, they can also be really important in cold temperatures. As mentioned, small dogs aren't able to generate as much body heat as a larger dog, so they need a little help staying warm and cozy when it's windy outside. Even some larger dogs that don't have thick coats need another layer of protection when there's a chill in the air. And if you have a puppy or an aging dog, you'll probably need a sweater, since they also can't generate or maintain body heat that well.
The below dog sweaters are fun and cute, and there's something for every type of dog. Check them out below for a mini puppy makeover:
Best Dog Sweaters
Cutest Dog Sweaters
Small Dog Sweaters
Medium Dog Sweaters
Large Dog Sweaters
Funny Dog Sweaters
Designer Dog Sweaters