The Best Electric Riding Scooters For Everyone (Yes, Even You)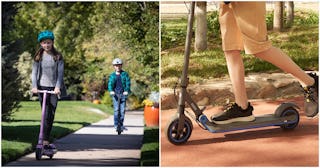 The future is now: Electric riding scooters are widely available, they're compact and convenient, and they're accessibly priced (well … sometimes). For adults, electric riding scooters are a smart (green) solution when it comes to commuting or running errands around town, plus it's cheaper than buying and maintaining a car. For teens and older kids, they're just a ton of fun — an exciting way to get around as well as to learn coordination and balance. Whether your priority is finding an electric riding scooter for your teen that's small and budget-friendly, or one that's powerful and fast for you, our list includes options from top brands like Segway, Razor, Gotrax, and more. So move over, dirt bikes, hoverboards, and go-carts — there's a new toy in town for those with a need for speed.
Related: These 305+ Random, Fun, Interesting Facts About Legit Everything Will Shock You
Editor's Note: Many of these scooters are marketed toward adults, so choose at your own discretion. We classified the "best scooters for kids and teens" as those with lower maximum speeds and price points.
Best Electric Riding Scooters For Kids & Teens
Best Electric Riding Scooters For Adults
This article was originally published on