You Can Get Emily's Vintage Camera Phone Case From 'Emily In Paris' For Just $7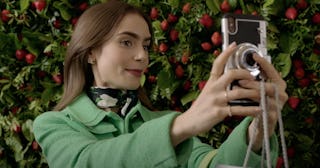 Netflix
We're guessing you binged all streaming episodes of Emily in Paris on Netflix and are now wondering where Emily got that freakin' awesome vintage camera phone case. Whether Emily in Paris was a hate-binge or you just genuinely loved the show, one thing is clear: Girl had good taste. The social media guru (played by Lily Collins) has expensive tastes in clothing and accessories, but weirdly enough, her iconic — and ironic — phone case (a vintage camera) is actually pretty budget-friendly. And you can buy the same one. It's the phone case she uses everywhere she goes in Paris on her journey to becoming a social media guru and influencer.
The phone is 3D and, if you watched the show (which we're assuming you did if you're here, hi!) is meant to mimic a real, vintage camera, making it look like you're taking selfies with an old school cam. And hey, it works for Emily, as she makes her way through Paris and racks up (a maybe unrealistic) amount of followers in a short period of time (any social media manager might tell you it's not so easy, but ah well, you gotta love and forgive escapist TV).
You can buy your own camera for yourself — or your teen if you want! It makes an awesome gift, especially if they're pop-culture minded and have watched Emily in Paris. Or just love old-timey things with functionality. The Emily in Paris-inspired phone case is available on Amazon, and is made of silicone, making it truly effective for protection purposes. The real-deal phone is currently out of stock (due to its popularity thanks to the show), but luckily, there are plenty of retailers selling one that looks almost exactly like Emily's.
We especially like this one, which has great reviews and offers ample protection.
We also love this one from Casetify which is pricier, but arguably higher quality, as it's an Ultra Compact Case (and we can totally vouch for Casetify's products, they've saved our phones from all kinds of disasters).
Here's another more budget friendly option, but it may only work with smaller phones.
And here's a Emily in Paris-inspired phone case that's designed for longer phones and comes at a wallet-friendly price.
How le fun!