The Best Board Games To Play With Your Family Since You're All Stuck Inside Anyway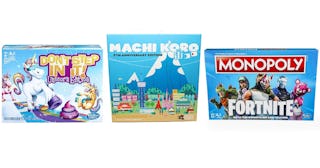 It's going to be a long winter, which means family time is mostly going to be inside. Cue family board game night — and we're here to help you pick out the best ones that'll keep all your kids (of all ages) entertained. Family game nights are fun, competitive, and absolutely unquestionably necessary for the perfect night in. (Bonding is a big deal.) Pick your teammates wisely, roll the dice with confidence, and be prepared to channel your super competitive side that the rest of the fam will just have to deal with. These epic family board games are so worth it.
We scoured through Amazon for the highest-rated family board games that promise a crazy good time – from your favorite classics to popular new releases. You can get nostalgic with Chutes and Ladders or dig into uncharted territory with games like Don't Step In It. Each of these will get the whole family cheering, jumping, and bonding in the best way.
RELATED: 100+ Trivia Questions And Answers For A Challenging Game Night At Home
Rainy days, extra long car rides, and summer evenings just got way more fun. Check out the best family board games of 2021 and have at it.