The Best Kid-Friendly Hotels With Waterparks
by Jenny Altman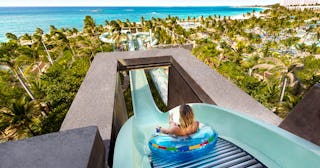 Atlantis Paradise Island
We all know that traveling with kids isn't a vacation, it's a trip. But traveling to a kid friendly hotel with a built-in waterpark is definitely fun for the whole family. These hotels do not mess around when it comes to water features— think year-round 85 degree Biospheres, 1,100 foot lazy rivers, 262 foot-long slides and 50 feet of heart-dropping plunge. These indoor waterparks are as big as 220,000 sq. ft, while outdoor waterscapes, like the Atlantis, span 141 acres. These parks have splash zones for the littles and extreme adventures for the teens. With names like the Leap of Faith, the Barrelling Babboon, Wolf Rider Wipeout, and the Anaconda, you will not be hearing I'm bored on this family trip! And you don't even have it wait until summer to visit some of these places.
The big question is where to book your next waterpark adventure. If you're looking for a Southwest staycation or Midwest getaway (even during the winter), there are great options within just a few hours drive. If a tropical waterpark out in the open with views of the beach is more your speed (raises hand), then hop a quick flight to Florida or the Caribbean. The choice is yours— depending on your budget and time.
We've found 15 of the most family friendly resorts with waterparks in the U.S. and Caribbean. Pack up your bathing suits, sunscreen and swim goggles— you'll need multiples!
Now if you're looking for a one-of-a-kind waterpark day trip, the brand new DreamWorks Water Park at the American Dream Mall in NJ has opened its doors. This indoor waterpark (only 5 miles from NYC) is the largest indoor waterpark in North America. It features the world's largest indoor wave pool, the tallest indoor body slide, and the longest hydromagnetic water coaster.
Kid-Friendly Hotels with Waterparks in the US:
Kid-Friendly Beach Hotels with Waterparks in the Caribbean/Hawaii:
Disclaimer: Due to COVID-19, we suggest calling ahead to insure the location has safety protocols in place and will remain open during the time you wish to visit.
This article was originally published on