These Electric & Wood-Burning Fireplace Inserts Will Help You Keep Cozy By A Crackling Fire
by Jessica Booth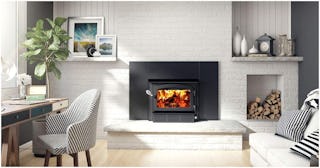 Amazon
A fireplace insert can help you the most of the fireplace in your home, whether you choose an electric fireplace insert or a wood-burning fireplace insert option. (If you have little ones, cue the fireplace baby gates!) There are plenty of benefits to owning a fireplace — they're a focal point for decor, they make your space feel cozy, and they can ultimately add value to your home. But there are also plenty of annoying things about them, which may discourage you from actually using yours. Not only can they be extremely messy, but they don't tend to distribute heat as well as you'd think they would. Enter a fireplace insert.
What is the purpose of a fireplace insert?
Fireplace inserts are designed to keep the room really warm while also keeping the mess to a minimum. They're essentially shelled room heaters that draft-proof a fireplace to keep the heat inside the room. They also keep your actual fireplace from getting filled with ashes and make clean up way easier.
Electric fireplace inserts vs. wood-burning fireplace inserts
If you don't want to spend over a thousand dollars, you might want to look into electric fireplace inserts, which usually contain faux logs and LED lights that resemble flames. Often, they double as heaters and are safer than having a wood-burning fire, especially if you have children. They also require virtually no maintenance or clean-up.
But if you're really looking for an authentic experience and to add heat to your home, then a wood-burning fireplace insert is the way to go. In it, you can build an actual fire, but the shell makes heating your room more efficient, and cleaning out the ashes is much easier. Plus, you can't beat the smell of a real, crackling fire.
What does a fireplace insert cost / Are fireplace inserts worth it?
Electric fireplace inserts are more of a decorative feature and are relatively affordable at $200-400 dollars. Wood-burning inserts are definitely more of a splurge item — they typically cost between $1,000-4,000 — but they could be worth the investment over time.
Whichever route you choose, here are some of the best fireplace inserts to consider purchasing.
Best Wood-Burning Fireplace Inserts
Best Electric Fireplace Inserts