These Flower Girl Dresses Will Probably Steal The Show (Sorry, Bride)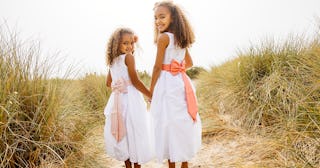 Getty Images
When it comes to finding the perfect flower girl dress, there can be a lot of pressure. Not only does it have to be approved by the bride (or both brides, or groom, or both grooms) and fit the color scheme and attire of the wedding, it also has to be comfortable enough for your daughter to wear it and make it down the aisle without throwing a fit… or just taking it off altogether. Ah, kids.
RELATED: The Best Birthday Dresses For Your Baby Girl's First Year Around The Sun
Flower girl dresses don't have to be big and poofy, but they definitely can be. There are several styles to choose from, including fancy for black tie weddings, boho for bohemian style weddings, and more casual dresses that can be worn for other occasions as well. Hooray for getting more than one use out of a dress!
Before you make your purchase, you might want to check with the powers that be (a.k.a. the bride) just to make sure you're on the same page. Your daughter will clearly be the cutest part of the wedding ceremony, and everyone knows she could wear literally anything and be adorable, but the dress matters. It's an honor to be part of someone's wedding, so the least you and your child can do is not f*ck it up. We kid, we kid. Kinda.
Take a look at our list of beautiful and chic flower girl dresses in all types of styles below.
Best Flower Girl Dresses
Best Toddler Flower Girl Dresses
Best Boho Flower Girl Dresses
Best Ivory Flower Girl Dresses
Best Blush Flower Girl Dresses
Best Cheap Flower Girl Dresses