The Best Frozen & Frozen 2 Toys For Kids Who Just Can't "Let It Go"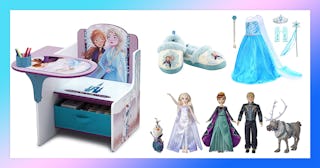 Amazon
Frozen toys have become a hot commodity since Disney's Frozen became a cultural staple in 2013 when Idina Menzel first belted "Let It Go" and the whole world fainted. Recently, Frozen has only gained popularity since Frozen 2 was released in 2019 and we all fainted again. If you're anything like me, you sat in a dark theatre next to your toddler during Frozen 2′s release and wept quietly as the world continued to change. But in the interest of not divulging more personal info like the confessor in a truth or dare game, let's talk toys.
There's something about these movies that ignites obsession in young viewers, and it's safe to say the trend isn't going away anytime soon. So if you're looking for the best Frozen toys to give little ones and continue this ongoing celebration, you've come to the right place. From kids smartwatches to makeup kits to character dolls and beyond, we have you (and your kiddo) covered for all your Frozen needs.
Best Frozen Toys & Accesories
Best Frozen 2 Toys
Best Elsa Toys
Best Frozen Dolls
Best Elsa And Anna Toys
Best Frozen Toys For Girls (& Boys)
Lots of people ask about the best Frozen toys for girls, so we wanted to offer some suggestions. That said, our stance is that your kid can choose whatever toy they wish to play with, regardless of how they identify!