This "Coughy Filter" Mask Gets An A+ From Us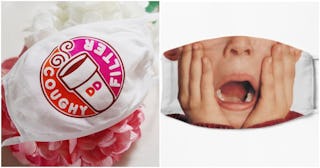 Etsy/Amazon
If you need a little brightness in your life, you might want to invest in a funny face mask. We've all seen the memes going around social media reminding us how much of a dumpster fire 2020 was, and now with a new variant of COVID going around things seem to be taking another turn. Not that we need reminding—we are, after all, the ones who lived through months of quarantine (which for many of us, meant months of spontaneous homeschooling while trying to juggle jobs and regular life). Basically, it's been a shitshow. And on a more serious note, our lives have changed *a lot* in the past year. We've FaceTimed and Skyped more than ever. Going to the grocery store seems like a risk every single time. And when we're out in public, we need to wear masks (per the CDC's recommendations). It's a huge adjustment! All of it! But there are tiny ways to make it all a little less scary and anxiety-inducing.
To make it through these rough times, a little humor (and a lot of hand sanitizer) is needed. An easy way to lighten the mood when you're out social distancing? One of these funny face masks. From an Office-themed face mask for you to cute animal face masks for the kids, these are some of the most creative face masks you can buy online right now.
Funny Face Masks for Kids and Parents:
Best Kids' Face Masks, Hands Down:
Looking for more child-friendly face masks and face shields? Browse some of our favorite kids gear here.