Who You Gonna Call? These 'Ghostbusters' Toys, Because They're Freakin' Awesome
by Tabitha Britt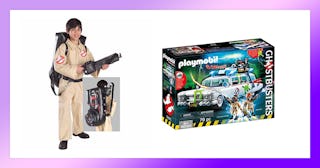 Amazon/Walmart
Even though the original came out in the '80s, there's a reason why Ghostbusters is a classic and why kids and teens go nuts for Ghostbusters toys and merch. Whether your family is a fan of the new, all-female-cast Ghostbusters remake or you prefer the old-school version of the film, there are plenty of options to choose from when it comes to Ghostbusters toys for newbies and OG fans alike. Whether your kid loves battling imaginary ghosts, just wants to blast a Proton Pack (aka the ghost-blaster), or has a thing for Bill Murray (don't we all?), we've got you covered.
Toy trends come and go, but Ghostbusters toys remain popular with both children and adults across the globe. Since the '80s, these idolized films, spin-off shows, and comics have been adapted into accessories, action figures, and LEGOs, among other toys. From Playmobil Ghostbusters toys to the all-famous Ghostbusters proton pack, here are the best Ghostbusters toys on the market.
RELATED: Water Fight! The Best Water Guns To Stay Cool And Victorious This Summer
Playmobil Ghostbusters Toys
Playmobil has been dominating the toy industry since the '70s and for good reason. Playmobil sets encourage your kids to use their imagination. Once set up, Playmobil gives children the chance to create and play in a world of their own. What's more? Playmobil comes in a variety of themes, including Ghostbusters.
Proton Pack & Ghostbusters Gun Toy
Ghostbusters wouldn't be the same without the Proton Pack (also known as a Positron Collider or nuclear accelerator). Designed by Dr. Egon Spengler, the Proton Pack is a top-of-the-line device used to capture ghosts.
This article was originally published on