Lit-erally The 26 Best Gift Ideas For All The Book Lovers On Your List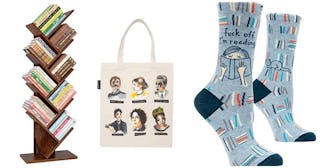 Amazon
Feeling the pressure of finding the best gifts for the book lovers in your life – that's not an actual book? Heck, we get it! It's so easy for these gifts for readers to be uninspired — seriously, how many times can we really buy the newly released novel of the season without it looking tired? Regardless if you are shopping for your best friend, girlfriend, sister, or one of your kids who just fell in love with books, readers often have strong literary opinions. And yup, these high standards can be a bit intimidating when looking for the perfect gift idea for book lovers. This year, let your book gift bring inspiration to that literary lover's life whether they be a teacher, writer, young reader, or just plain old bibliophile with one of these no fail, truly lit gifts for bookworms.
Now listen, before you start thinking about all those gifts you've received that you waited in the post-holiday returns line with, these gifts are not that! We aren't talking about your run of the mill gift ideas for book lovers here. We know that to achieve a truly successful book gift it needs to be clever, useful, inspiring, and (dare we say even) cheeky. If cheeky is in fact your thing we highly recommend checking out the "F*ck off, I'm reading socks" below.
So whether you are buying for a young reader or a seasoned literary snob (we've all got one ya know) we have just the thing for every book lover on your list. So yeah reading is lit! And so are these non-book, book gifts!
Go ahead, check those bookworms off your gifting list! Now who else you got? Need a gift for a babysitter, an 8 year old, or Grandpa? We've got top notch gift ideas for them all!