34 Sweet Gifts Every Baker In Your Life Really Kneads
by Anna Baboval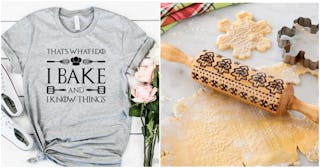 Etsy/Nordstrom
Shopping for the best gifts for bakers (or junior bakers) in our lives can really be looked at as giving a gift to ourselves this holiday season. Finding the perfect new tool (like an ice cream cream maker!) for making sweet treats that the bakers in our lives can't wait to use will reap dividends when those delicious baked goods start rolling in as a thank you. Whether it's unique cookie cutters or the latest and greatest kitchen gadget, those who love to cook and bake will find inspiration in even the most basic gear. Seriously, a banneton just looks like a basket, but has inspired the masses!
Baking is an exact science using precise measurements of ingredients; one small miscalculation (like our "helper" mistaking tsp for TBSP) and it's an epic fail. Baking isn't for everyone, but those who love it have found their niche. Their particular interest will help decide the kinds of gear that they would be jazzed to receive. Everything from a beautiful solid wood rolling pin to a personalized cookie stamp will thrill the cookie bakers. Whereas the pastry pros might enjoy a new set of pie weights or anything written by Christina Tosi (one of our favorite pastry chefs). Shopping for the beginner baker? Setting them up with the right tools (like an apron or helper stool) or even a classic pie plate can spark a lifelong love.
Not sure where to start? No worries, we've scoured the internet to compile the most beautiful and inspiring gifts for all the bakers in our lives. Let the taste testing begin!
Best Gifts for Bakers
Gifts for Cake Makers
Gifts for Cookie Bakers
Gifts for Pie Pros
Gifts for the Beginner Baker
Funny Gifts for Bakers
Looking for my amazing gift ideas for everyone on your lift? Check out all of our gift guides (we've covered even the most difficult people to shop for)!