16 Gift Ideas For Your Favorite Bunhead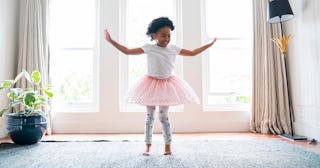 Getty Images/ Stígur Már Karlsson /Heimsmyndir
If you have a mover and a shaker in your life, you might find yourself trying to come up with some dance gift ideas in time for the holidays. Like ice skating or sledding, ballet goes hand-in-hand with winter, thanks to the holiday classic The Nutcracker. So your favorite Sugar Plum Fairy might be hoping for some ballerina inspired gifts this year, especially since they probably can't see a live performance for a while. But there's more to dance than tutus and tiaras. (Although, both tutus and tiaras make for fantastic gifts.) And if your head is spinning trying to come up with some gift ideas for your favorite dance party buddy, we got you covered.
Ballet is a true intersection of art and athleticism – so your gift-giving angles are aBUNdant. Whether your friend is a hardcore bunhead or simply enjoys a barre class to keep active, here are the 16 best gifts for the prima ballerina in your life.
Dance Gift Ideas
Ballerina Gifts
If you're looking for more amazing gift ideas, check out the rest of our gift guides!