33 Gift Ideas For Nurses, Our Real-Life Superheroes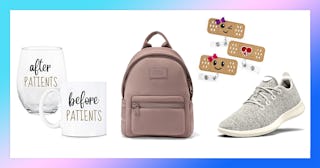 Looking for gifts for nurses in your life? Nurses are basically real-life superheroes, something that's become even more apparent these last few months. If one of your friends or family members works as a nurse, one way to show your appreciation for everything they do is to get them a really sweet holiday or birthday gift. All of our essential workers deserve a little extra this year, be it teachers, doctors, grocery store employees, etc. Along with a heartfelt "thank you" note, you can always include a gift as well. Whether you're going big or small, the best gifts for nurses are items that are not only practical and convenient, but also items that are fun and comfy.
If you're looking for nurse gift ideas, you should first decide which route you want to go. Do you want to buy them something logical that they can use at work, something that might make their days a little bit easier or more comfortable? Do you want to buy them a gift that they can use on their off time when they're finally getting to relax? Or do you want a little bit of both? Are we breaking the piggy bank for our favorite nurse or looking for something reasonably priced? Whatever the case, we've put together a list of the best gift ideas for nurses that will show them exactly how special you think they are.
After all, no one deserves a present as much as they do right now! The pandemic has put a huge strain on medical professionals as a whole, and many nurses are dealing with so much stress and exhaustion. A gift, even a small and inexpensive one, may seem like nothing compared to what they're dealing with, but it can actually mean a lot. Check out the ideas below and get shopping!
Best Gifts For Nurses
Nurse Graduation Gifts
Gifts for Nursing Students
Nurse Practitioner Gifts
Funny Nurse Gifts
Practical Gifts For Nurses
Christmas Gifts for Nurses
Check out more of our gift guides if you're looking for gifting inspo!