28 Products People Who Are Obsessed With Christmas Need Immediately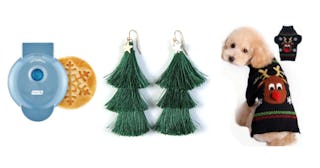 Amazon / Tipsy Elves
We all have that one friend who loves Christmas so much, that their Christmas playlist is queued up on November 1st and Mariah Carey's All I Want For Christmas blasting over the speakers. Next thing we know they're counting down to Freeform's "25 Days of Christmas" schedule and guessing what the new Starbucks Holiday Cups will look like. So what on Earth do we get our Christmas-obsessed friends? Are they a National Lampoon's Christmas Vacation fan? Or maybe they're big Dolly Parton fans and can't wait to get their hands on her Christmas sweaters.
Christmas in 2020 is going to look a little different than in years past, which COVID restrictions on family gatherings and getting a photo with Santa at the mall. But that doesn't mean we have to skip out on the gift-giving this year. Shopping for gifts for people who love Christmas doesn't have to be that difficult. If you get them anything with snowflakes, a tree, or Santa on it, they're definitely going to love it. But to make things a bit easier for you, we rounded up 28 of the best gifts for Christmas-lovers.
Christmas Home & Kitchen Decor
Christmas Clothes & Accessories
Christmas Activities & More
For more great holiday gift ideas, check our other Gift Guides.