These Halloween Face Masks Will Make Your Kid Feel Like They're Wearing A Costume
by Karen Tietjen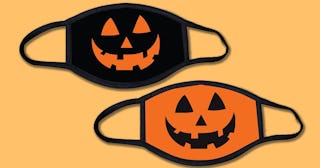 Etsy
This year, the idea of Halloween face masks takes on an entirely new meaning, now that protective face masks are part of our everyday lives. While it can certainly be a nuisance, the best way to don your new accessory is to have fun while doing it, especially if you have resistant kids who aren't fans of face coverings (we hear ya, kiddo!). But with Halloween on its way, now's the time to start thinking about how to turn your family's masks and face shields into Halloween costumes that they'll actually enjoy wearing. And while the spooky celebrations may be different this year, with everyone else also in disguise, this may actually be the most festive Halloween yet.
Although you may not go door-to-door trick-or-treating this year, you can celebrate safely by decking out the house and treating outings like socially-distanced Halloween parade. Ahead, we've rounded up the best pandemic-friendly kids' face masks of 2020 that are both protective and festive for the upcoming holiday.
For more information about face masks and COVID-19 safety, please refer to the CDC's website.
Best Halloween-Themed Kids' Face Masks
Best Kids' Masks For Halloween Dress-Up
Love these cute and practical kids' masks? Check out more mom-approved kid gear picks (because we've been there, too).